A lucky church member has revealed how he escaped from a ritualist den where his pastor had lured him to in Osun state.
The man, Sola Adebayo, who claimed to have been close to the pastor, Emmanuel Ogedengbe, explained that he told him they were going to a prayer mountain in Oshogbo area of Osun State.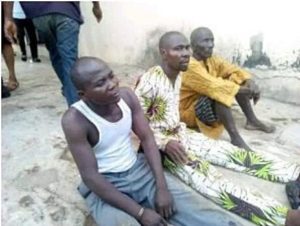 Although Ogedengbe's church, the Cherubim and Seraphim Church, was situated in Ibadan, Adebayo agreed to accompany him on the journey because of the respect he had for him.
How it happened
After driving him in his car to Oshogbo, Adeboye explained how the pastor took him to a herbalist abode instead, claiming they were his associates.
Luckily, he was able to sense danger when his pastor did not return many hours after he was taken out of the room.
Adeboye had to pretend he needed to fuel his car in a bid to escape.
While narrating his ordeal to policemen he contacted after his scary experience, he said, "When he (Pastor Ogedengbe) told me to follow him to Osogbo for prayers, I couldn't turn him down because he was someone I respected so much. But when we got to Osogbo, he changed the story and when I was extremely inquisitive, he said where we were going was a town before Ikirun", Adebayo narrated.
"It was when we got to Oba-Ile that I realized we had come to a herbalist's house and I immediately asked him what we were doing there.
READ ALSO: Nigerian police prepare app to fight rise in violent crimes
"I was told that our hosts were his friends and that they had been friends for about eight years.
"Minutes later, I was told to wait and our hosts left with Pastor Ogedengbe and it was when I started calling his telephone number without response that I started having a second thought. "But about an hour later, the oldest among our hosts-turned-ritualists came back and asked me to follow him.
"They had asked me immediately we got to the house to eat some concoction which I refused to eat.
"Now when this old man asked me to follow him alongside one hefty guy to where the pastor was, I asked about pastor's whereabouts. The old man simply told me that he was fine and that he was praying at the holy ground.
"All along, I felt something fishy was going on and, when we got to a place inside the bush, I asked for my car keys which they had earlier taken from me, pretending that I wanted to pick something from the car.
"But to my surprise, the old man refused to give me the keys.
"It was after some minutes of argument that he released the keys and asked this stern looking guy to follow me.
Escape Plan
"Once we got to the car, I requested the gang member who followed me, to follow me to a filling station to buy fuel into the car since we will be traveling late in the night. And it was from the filling station that I escaped.
"I was chased on three motorcycles till I got to Osogbo-Ikirun expressway before they went back and I rushed to the nearest police station".
The suspects were subsequently nabbed after the tip off while Pastor Ogedengbe's dismembered body parts were found in their possession.