Veteran Nollywood actor, Larry Koldsweat, on Friday led other Nigerian celebrities in a solidarity walk to call for an end to banditry and kidnappings in north western part of the country.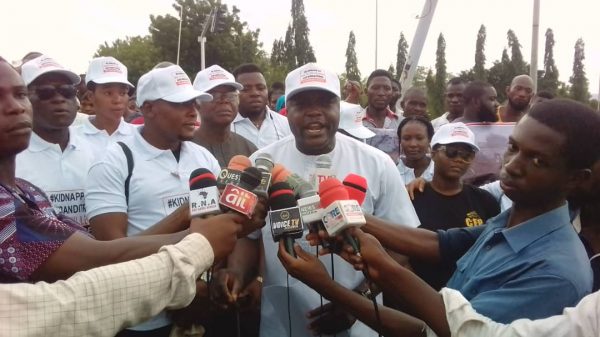 The celebrities under the auspices of Human Rights Monitoring Group, called on the world to take notice that high ranking politicians are behind the resurgence of killings in the north-west.
Addressing the well-attended rally, which held from the Unity Fountain to the presidential villa, Abuja, Koldsweat urged Nigerians to rise up against politicians that are sponsoring these killings all over Zamfara State with a firm demand that they stop it now.
"We are gathered here today as patriotic Nigerians who do not want to be complicit in an injustice being perpetrated against other Nigerian. Our march is about not being complicit by remaining silent in the face of grievous harm being done to our compatriots in several states of the country. What the perpetrators of this crime are banking on is that they have gotten away with their evil in some places and they can therefore spread their deadly merchandise to other parts of the country.
We speak to the killings in Zamafara and its environs. Those facilitating these killings began by making us initially think it was a case of petty crime gone wrong. It later became cattle rustlers killing victims to steal cow. Then we began hearing of armed bandits. Even their armed bandits have later been discovered to be militias that were unleashing violence as a smokescreen while the mineral resources, gold, in Zamfara state was being mined by the tonnes while the environment is degraded beyond comprehension and the citizens deprived of their livelihood.
Our shock as a nation upon finding out about this pillaging of Zamfara and neighboring communities should have been a red card for the people benefiting from this evil to call it quits and scamper away like the criminals that they are. But this is not the case. These people have resolved to dare our collective will as a people and to test the capacity of Nigeria to respond to their felonious activities with the powers of a sovereign state," he said.