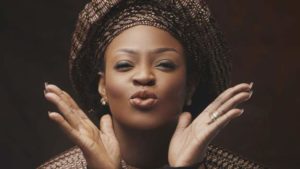 Zeynab Abib is known for her RnB and afrobeats hits but she is also passionate about traditional music and has recorded songs in the Bolodjo style.
She comes from an area of Benin close to the Nigerian border which shares Yoruba culture.
"There are so many beautiful things [in Yoruba culture], the way to dress, the way to eat, the way to dance, the music, the talking drum, everything. There's nothing money can buy like being proud of where you come from," she told This Is Africa.
"For me it's a big, big honour to represent that culture," Zeynab added.
Her grandmother was a famous traditional singer, but Zeynab, who grew up in Ivory Coast, only discovered this when she returned to Benin when she was 18.
It was then that everything made sense, she was destined to be a singer and carry on in her grandmother's footsteps.
Since then, Zeynab has performed and worked with an impressive list of bands and artists, including Congolese Awilo Longomba, and she has been a winner at both the Kora and Afrima music awards.
One of my favourites songs of hers is No Go Die. It's an African take on Gloria Gaynor's defiant and famous anthem I Will Survive.
As Zeynab says: "When you love somebody a lot and that person is leaving you, what can you do? What can you do? [In this song] I want to show that person that I'm not suffering… even if it's not true!"
The interview will air on 4 April on BBC World Service and is available online after the broadcast.
BBC News