Women with bigger waists relative to their hips are at more risk of heart attacks than men of a similar "apple shape", research from the George Institute for Global Health says.
The study showed waist-to-hip ratio to be a better heart attack predictor than general obesity – 18% stronger than body mass index in women and 6% in men.
The report found a high BMI was linked to heart disease risk in both sexes.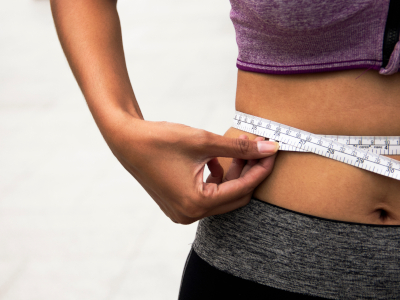 The researchers interviewed nearly 500,000 UK adults aged 40 to 69.
The research has been published in the Journal of the American Heart Association and used the UK Biobank resource.
Dr Sanne Peters, the report's lead author, from the institute, which is at the University of Oxford, said: "Our findings support the notion that having proportionally more fat around the abdomen (a characteristic of the apple shape) appears to be more hazardous than more visceral fat, which is generally stored around the hips (the pear shape)."
She said that "looking at how fat tissue is distributed in the body – especially in women – can give us more insight into the risk of heart attack than measures of general obesity".
Dr Peters added: "Understanding the role sex differences in body fat distribution play in future health problems could lead to sex-specific public health interventions that could address the global obesity epidemic more effectively."
The report said that body composition and fat distribution differed markedly between the sexes, with women having a predominance of fat mass and subcutaneous fat and men having lean mass and visceral fat.
It added: "Our study has several strengths, including the prospective design, large sample size, and direct measurement of general and central adiposity on all participants.
"However, the UK Biobank is a largely white population, and further analyses are needed to determine the generalisability to other populations."
Heart attack symptoms
chest pain – a sensation of pressure, tightness or squeezing in the centre of your chest
pain in other parts of the body – it can feel as if the pain is travelling from your chest to your arms (usually the left arm is affected, but it can affect both arms), jaw, neck, back and abdomen
feeling lightheaded or dizzy
sweating
shortness of breath
feeling or being sick
overwhelming sense of anxiety (similar to having a panic attack)
coughing or wheezing
Although the chest pain is often severe, some people may feel only minor pain, similar to indigestion. In some cases, there may not be any chest pain at all, especially in women, the elderly and people with diabetes.
Ashleigh Doggett, senior cardiac nurse at the British Heart Foundation, said: "Considering the large amount of UK participants, this is a very interesting study which highlights that obesity remains a risk factor for heart attacks in both men and women.
"Interestingly, it suggests that those of us who are 'apple' as opposed to 'pear' shape, especially women, may be at higher risk of a heart attack.
"We know from previous BHF research that women are often misdiagnosed initially when having a heart attack so how we store fat and our body shape may be an important factor for medical staff to consider when making a diagnosis.
"The study highlights the need for similar research amongst more diverse populations, and for further research into sex differences which could lead the way in treating patients on an individualised basis."