After the news broke that Pastor Biodun Fatoyinbo of Commonwealth of Zion Assembly had "stepped aside" in the wake of rape accusations against him, people called for thorough investigations of the allegations to ascertain the truth. I agree with them, but I must also add that any truth-finding mission has to include his wife, Mrs Modele Fatoyinbo.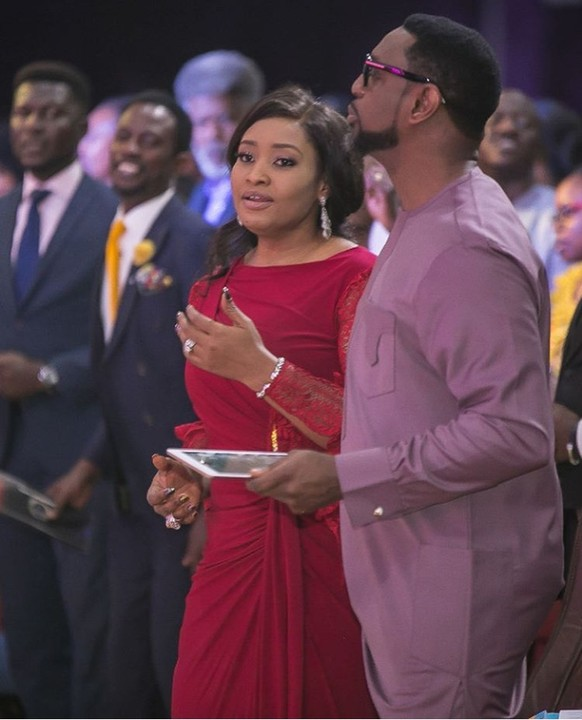 The way Mrs Fatoyinbo features in the accusations against her husband makes me wonder what she knows and why she protects her husband with such vehemence. She has been thrusting out her chest to take bullets on his behalf and literally using her body as both a moral cover and for the deflection of the attacks on him. Does this woman trust her husband that implicitly or is this about some psychological power dynamics that railroad her into the act?
During the church service on Sunday where she preached after the case first broke, she was quick to assert his innocence by saying he could not have raped anyone even as an unbeliever. According to a report by The PUNCH, at that point, even the husband had to snatch the microphone from her probably so she would not incriminate him further with her chattiness.
On Monday, she reiterated his innocence and insisted that nobody would take his place. She even sent a curse in the direction of the "strange sons and daughters" sitting in their church. Meanwhile, when the insinuations of the husband's philandering started about a month ago, some people, who claimed to be church members, said that she was aware some women were ogling her husband and she had to form "sexual security" around him.
In one of the stories told about her husband's philandering, the accuser claimed that during Pastor Fatoyinbo's bid to sleep with her, he said some uncomplimentary things about his wife. I wonder if she read that and what she thought of it.
So, is Mrs Fatoyinbo overplaying her role as an ideal wife who has to cover her husband's alleged weaknesses or this is more of her having an unshakeable trust in her husband? When Busola Dakolo told her story, one of the things that interested me was the part where she claimed that Mrs Fatoyinbo, a new mum at the time, asked her to help her with the baby. For some odd reason, a man allegedly rapes a girl on a Monday and the following Sunday, the wife chose that same person to come over to their house and help her with the newborn baby. What experience was a teenage girl supposed to have with such a task that could have been left for someone older or experienced? It was when the pastor was taking her back home that the alleged second rape happened.
I find all of these coincidences in the story curious. I think it is not enough for us to call for the pastor to submit himself to a thorough investigation, but the wife needs to answer some questions to ascertain whether she is an active collaborator or another pawn in a game of psychological manipulation and abuse. The truth matters in this kind of case and that is because it is not possible to have a situation where a single person will have multiple accusations of abuse of power, trust and privilege laid against him without also having a village of enablers who make it happen.
VIDEO: So This Happened (Ep1) reviews Biodun Fatoyinbo's rape allegation and more…
No serial abuser, especially one in a position of power and privilege as a pastor has, ever works alone. He needs the support of those around him to abuse victims without consequences perpetually. These accomplices not only watch the crime happen, but they bury the bodies too. We saw how that happened in the case of Chukwuemeka Ezeugo aka Rev King – how his church not only protected him but also traumatised his victims. Left to them, the man will still be walking free and assaulting poor women with his anointing. As we also see with the cases of scandals in the Catholic church, when you cover up sex abuses to protect the image of the church, you end up with the institutionalisation of abuse and assault.
That said, investigations should not only involve Mrs Fatoyinbo, but also some of the COZA pastors. The two women, Ese Walter and Busola Dakolo, who have spoken against Pastor Fatoyinbo, told different stories. You cannot but see patterns of alleged cover-ups by his pastors in their allegations. The two women mentioned Pastor Folarin Ogunsola (or Pastor Flo, as they called him) of COZA Lagos chapter. Both Ese Walter and Busola Dakolo's stories allegedly occurred in different places and even over time, yet the same man's name featured? That is too much of a coincidence. He sounds like the hit man of a mafia empire, the character that either pays off victims or arranges for them to disappear.
Mind you, this Pastor Folarin has yet to deny a thing since this started. I think he should be subject to a thorough investigation on what he knows and what role he has played in the alleged abuses by Pastor Fatoyinbo. Busola Dakola also mentioned a Pastor Wale Soetan. He too should be questioned on this. If there was a rape and he knew about it but kept quiet or helped to cover up, he has committed a crime for which he should be punished.
Finally, while I must reiterate that Pastor Fatoyinbo remains innocent until proved otherwise, I think he should not be investigated alone. In Nigeria, rape has thrived because bad men do not respect other people's body autonomy and they arrogate to themselves the right to someone else's body. At the same time, rape also thrives, particularly in intimate spaces, because some of these bad men enlist their wives. They use them as a decoy, to project the façade of a responsibly married man even though they are predators.
Some women go along either because they are perverts themselves or because they want their husband to be obliged to them for giving him the needed cover to perpetuate his acts. That is how some men have been able to rape their domestic staff and even their own children. Some other women become accomplices because their lives are built around their marriages. If the man should pull the rug off their feet, they will be cast into the dark room of ordinariness. If they are pastors' wives, they will lose the privilege of being "Mummy in the Lord" to the fawning handmaids of the Lord's vineyards. It is a frightening prospect and not every woman can muster the courage to walk away.
There is a lot that one can say about pastors' wives and how they are (willingly) used as a body cover when their husbands face charges of sexual impropriety. When Apostle Johnson Suleman was accused of adultery, he not only whipped out his wife to fight back, but they also jointly made a silly "love video" that beat everything you ever saw in cheap Indian films. A woman with some self-respect would have urged her husband to resolve his issues and not involve her, but what was at stake was a question of power. It should not surprise anyone that when he rewarded her with a gift, he also made a public show of it. He was not just showing his gratitude but also sending a message about the hold he has over her.
Again, I acknowledge that Pastor Fatoyinbo remains still innocent until otherwise proved. I hope he submits himself for an investigation and clears his name. When all of these is over, we should also ask about Mrs Fatoyinbo. What does she know and what is the role she has been playing since all of these started say about her?
Abimbola Adelakun