Unknown gunmen have killed Solomon Adebayo, Governor Yahaya Bello's Pensions Commissioner while traveling along the road in Kogi State.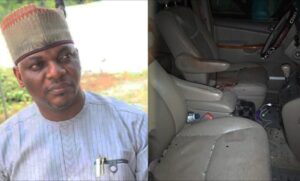 According to the Nigeria Police, Adebayo was killed while traveling to Kabba area from Ilorin on Saturday evening.
The state police spokesperson, William Ayah said the gunmen opened fire on the commissioner's vehicle along the road, killing him on the spot while severely wounding his driver.
The police said an investigation would be carried out to track and arrest those behind the deadly assault.
It was however unclear whether the attackers made away with any of the victims' belongings.
The driver, whose name was not immediately disclosed, was taken to ECWA Hospital Egbe alongside others injured in the attack.
The killing of Adebayo, Akeweje of Eri Land in Kogi, was being mourned across the state as the news trickled out overnight.
Nigeria is currently experiencing an increase in attacks by unknown gunmen.
The national leadership of the Peoples Democratic Party (PDP) has described Nigeria as a giant-killing field under the administration of President Muhammadu Buhari.
The main opposition made this known in a communique after a meeting at the Akwa Ibom Governor's Lodge in Abuja.
Reading the communique to newsmen, the national chairman of the party, Uche Secondus, decried the current security situation in the country.
According to the PDP, the security of lives and property is becoming practically non-existent as Nigeria descends into anarchy.
The PDP also condemned the handling of Boko Haram by the Muhammadu Buhari administration.
"Terrorism, banditry, kidnapping, cattle rustling, rape, arson, mindless murder of citizens and even security agents are ravaging the land. Criminals have taken complete control of most aspects of our lives unchecked," Secondus said.
Source: Naija News