Each year, tens of thousands of people immigrate to the U.S., hoping for a better future. Robyn Rihanna Fenty's story started the same way. Over a decade ago, Rihanna left her home country, Barbados, and her abusive addict father behind to launch her music career. Her journey kicked off with the help of fellow musician (and now billionaire) Jay-Z, who heard a demo of one of her songs. Since then, Rihanna has not only rocked the music industry, she's also become a force in the beauty and fashion industries.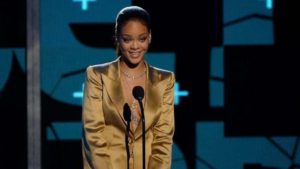 Building on her fame and her experiences as a woman of color, Rihanna launched makeup brand Fenty in partnership with luxury goods group LVMH in late 2017. The Fenty line, which includes shades of makeup for a wide range of skin colors and tones, pulled in an estimated $570 million in sales last year. In 2018, she started the Savage X Fenty lingerie line with Los Angeles-based online fashion firm TechStyle Fashion Group. That was just the first of her forays into clothing design. Last month Rihanna and LVMH announced a new luxury fashion house, Fenty, which will be based in Paris. She becomes the first black woman to lead a major fashion maison.
Primarily thanks to her ventures outside of music, Rihanna is worth an estimated $600 million, according to Forbes. She debuts as one of 19 immigrants on Forbes' 2019 list of America's Richest Self-Made Women, which altogether features 80 women. Two other newcomers to the list were born outside the U.S. as well: Ashley Chen of Taiwan and Neha Narkhede of India. The women immigrants hail from around the globe, from Canada to South Korea, from 14 different countries on four continents; nine moved here from an Asian country. Together this cohort of immigrants, which make up nearly one-fourth of the women in the self-made ranks, is worth an estimated $18.4 billion—23% of the total.
This is the fifth year that Forbes has celebrated the nation's most successful women. The U.S. continues to serve as a beacon for ambitious women who want to transform industries, be it in retail, defense or other industries. In spite of the federal government's crackdown on immigration, the nation's most successful immigrant women continue to embody the power of the American Dream.
Thai Lee, who is the most successful woman immigrant in the country, has lived that dream, working very hard along the way. Lee, who was born in Bangkok, grew up in South Korea but moved to the U.S., where she and her older sister lived with a family friend and attended high school in Amherst, Massachusetts. Lee later attended Amherst College to study economics and biology, and received her M.B.A. from Harvard Business School in 1985. She went on to work at U.S. companies like Procter & Gamble and American Express for four years but in 1989 she and her then husband bought a software reseller for less than $1 million. They renamed it SHI International which now works with customers like Boeing and Johnson & Johnson and reported $10 billion in sales in 2018.
China-native Weili Dai, Panda Express cofounder Peggy Cherng and Turkish-American billionaire Eren Ozmen, who grew up in Diyarbakir—a city in Turkey close to the Syrian border —all similarly moved to the U.S. in pursuit of a better education. Ozmen sold baklava and worked as a janitor at aerospace and defense company Sierra Nevada to support herself while attending business school at the University of Nevada, Reno. Today she is the president and majority owner of Sierra Nevada, which racked up $1.9 billion in sales in 2018 and counts NASA as one of its clients. "Look at the United States and what women can do here, compared to the rest of the world. That is why we feel we have a legacy to leave behind," Ozmen told Forbes in 2018.
Other women moved here in search of a better life and more opportunities. Makeup mogul Anastasia Soare immigrated from Romania to Los Angeles in 1989 and took a job in a beauty salon. Three years later she quit to start her own business and in 2000 launched her eyebrow products line, Anastasia Beverly Hills, now valued at over $3 billion. Forever 21 cofounder Jin Sook Chang pursued a similar path: She and her husband came to the U.S. from South Korea in 1981. Chang worked as a hairdresser for three years, while her husband worked three jobs. The couple used $11,000 they had saved to open a 900-square-foot clothing store in Los Angeles. Now Forever 21 has over 815 stores and an estimated $3.4 billion in annual revenue.
Another industry where women immigrants make their mark is technology. Twenty women entrepreneurs on Forbes' list built a fortune in tech, including seven immigrants. One of those is Oracle co-CEO Safra Catz. Originally from Israel, Catz joined the software giant Oracle in 1999. Although Catz is not a founder, she has overseen more than 130 acquisitions worth a total of $60 billion and has become one of the top-paid CEOs in the country. Just in 2017, Oracle paid her $135 million in cash and stock, which helped her join the billionaire ranks in 2019.
Here's the complete list of immigrants on this year's list of America's Richest Self-Made Women:
Thai Lee
Net worth: $3 billion
Country of origin: South Korea
Source of wealth: IT provider
Peggy Cherng
Net worth: $1.7 billion
Country of origin: Burma (Myanmar)
Source of wealth: fast food
Jin Sook Chang
Net worth: $1.5 billion
Country of origin: South Korea
Source of wealth: fashion
Eren Ozmen
Net worth: $1.4 billion
Country of origin: Turkey
Source of wealth: aerospace
Jayshree Ullal
Net worth: $1.4 billion
Country of origin: United Kingdom
Source of wealth: computer networking
Anastasia Soare
Net worth: $1.2 billion
Country of origin: Romania
Source of wealth: cosmetics
Safra Catz
Net worth: $1.1 billion
Country of origin: Israel
Source of wealth: software
Neerja Sethi
Net worth: $1 billion
Country of origin: India
Source of wealth: IT consulting
Weili Dai
Net worth: $960 million
Country of origin: China
Source of wealth: semiconductors
Christel DeHaan
Net worth: $950 million
Country of origin: Germany
Source of wealth: timeshares
Kit Crawford
Net worth: $890 million
Country of origin: Canada
Source of wealth: Clif Bar
Rihanna
Net worth: $600 million
Country of origin: South Korea
Source of wealth: cosmetics, music
Theresia Gouw
Net worth: $580 million
Country of origin: Indonesia
Source of wealth: venture capital
Celine Dion
Net worth: $450 million
Country of origin: Canada
Source of wealth: music
Source: Forbes