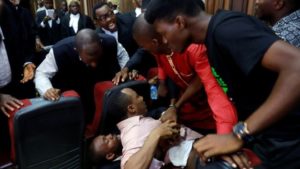 Omoyele Sowore the convener of #RevolutionNow has been re-arrested by men of State Security Services in a dramatic and flagrant disregard for court order. Men of State Security Operatives invaded the court premises while the court was still in session and presided by Justice Ijeoma Ojukwu. Omoyele Sowore was re-arrested just hours after being freed on bail, in a case that has raised questions on human rights and freedom of speech in the country. No reason has been given for the arrest.
Sowore, who is the Publisher of US-based Sahara Reporters and a presidential aspirant in the just concluded general election was detained after calling for a nationwide demonstration against the government. He was charged with money treason, money laundering and insulting the president.
The DSS officials stormed a Federal High Court in the capital, Abuja while the Court was in session.  Law and order broke down in the court room and during the chaos and scuffle that ensued, the Judge and Court staff fled for safety.
Despite being granted bail in October, authorities have continued to hold him, sparking an outcry from his supporters.  His co-defendant Olawale Bakare is also in the custody of state security services.
Mr Falana, the Counsel for the defendant said outside the court room that what is happening now will not go away unchallenged," Mr Falana told reporters. "We either run this country on the platform of the rule of law or we resort to gangsterism which is what is going on." There is so far no comment from the DSS.