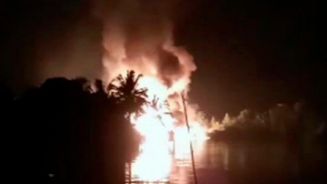 Want to lose money in one of Africa's biggest markets? Put it to work in Nigeria.
Despite sitting on nearly 40 billion barrels of proven oil reserves and over $48 billion worth of investment opportunities in the oil and gas sector, Africa's largest economy is mired in problems with big corporate investors as president Muhammadu Buhari readies his second-term after a swearing-in ceremony scheduled for May 29.
Nigeria's stock index is down 0.4% year-to-date while emerging markets are up 2.3% and the MSCI Frontier Markets 100 is up 10.2%.
As one of the better  known, investable African equity markets, anyone who tried their luck with the Global X Nigeria (NGE) exchange-traded fund is down 27.7% over the last 12 months. In five years, the Nigeria ETF has blown up, now down over 74.5%. Frontier and emerging indexes are better than Nigeria. It's also worse than South Africa, Africa's largest stock market, and Egypt, Africa's second largest.
In terms of foreign direct investment, back in 2013 inflows totaled $5.6 billion, most of it in the telecom and energy sectors. Last year, Nigeria's FDI flattened to $2 billion. Equity investment between 2013 and 2018 has fallen from around $2.9 billion in 2013 to just $139 million in 2018. In the last quarter of 2018, there was the first net pullout of equity capital since records began under the current accounting methodology in 2008, according to data compiled by The Economist Intelligence Unit (EIU).
Nigeria is Africa's largest economy in terms of nominal GDP. South Africa comes in second, even though its GDP per capita is roughly five times that of Nigeria.
It's Nigeria's abundant commodity resources that make it so big. But it's Nigeria's government that keeps it from getting bigger, and richer.
"Nigeria has never been a particularly business-friendly place," says David Bruckmeier, a sub-Saharan business intelligence analyst at London-based political risk firm AKE Group. "Outright hostile action against major foreign investors is rare, but bureaucracy, pervasive corruption, an unfavorable tax system and disputes with investors hurt investment," he says.
Forbes