Need Inspiration? This Former Slave, Biddy Mason, Became A Real Estate Mogul And Left The World A Better Place Before Her Death.
"The open hand is blessed, for it gives in abundance, even as it receives." Biddy Mason, Former Slave and Pioneering Entrepreneur.At her death in 1891, Biddy Mason's wealth was approximately $300,000 or about $7,000,000 in today's dollars. More impressively, the land she owned in downtown Los Angeles is now worth hundreds of millions. Incredibly, this former slave, who never spent a day in a classroom, didn't purchase her first property until she was nearly forty years old.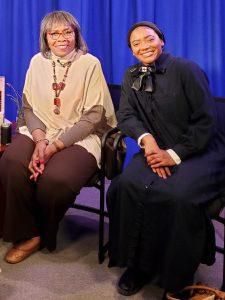 Jackie Broxton, cofounder of The Biddy Mason Charitable Foundation, and Michelle Hester, portraying entrepreneur Biddy Mason.
Giving Lost Voices A Global Megaphone
I recently augmented my UC Santa Barbara UCTV Innovator Stories series, bringing back to life Lost Voices from unsung entrepreneurs of the past. I've focused on entrepreneurs from underrepresented groups, whose stories are less familiar, even to students of entrepreneurship.
The effort is a collaboration between UCSB's History, Theater and Technology Management departments. The entrepreneurs are portrayed by UCSB theater students, who are coached by PhD candidates who have an intimate knowledge of the entrepreneurs' place in history. In addition to Biddy Mason, the Lost Voices of Ng Poon Chew and Peter Biggs have also been resurrected via the series.
Collaborations across University departments can be challenging. However, I been very fortunate to work with some highly talented people, including History PhD student Laura Voisin George.
My original vision for the Lost Voices series was to simply have the historical figures answer questions while "in character." Fortunately, Laura has experience creating first-person historical presentations. She suggested that the characters perform a soliloquy, followed by a Q&A session. This brilliant idea turbocharged the series and allowed the characters to truly "come to life."
In 1848, Biddy arrived in what later became Salt Lake City from Mississippi, after walking over 1,700 miles during the six-month trek. This feat is even more remarkable when you consider that she had to care for her three children, an infant, a four-year-old and a child of ten. As she was enslaved to Robert Smith, she was also responsible to tend to his family, cook, midwife and herd his livestock.
In 1850, the California Constitution, which prohibited slavery, was ratified, though slaveholders who arrived in California before the constitution was passed were exempted.
In the intervening years, Charles Owens, a free African American businessman, became acquainted with Biddy's daughter, Ellen. Charles' father, Robert Owens, was an early Los Angeles landowner and together, father and son created a thriving entrepreneurial enterprise, supplying the Army with wood, horses, hostler services and various supplies.
By late 1855, Mr. Smith, who had arrived in California after the state constitution was ratified, became concerned that Biddy, and her relatives, would be freed. To avoid this possibility, he decided to move his family, and the people he had enslaved, to Texas, a slave-holding state.
Their wagons packed, Mr. Smith went to the Owens' livery stable to sell some of their livestock, to raise money for their planned trip. Fortunately, Robert Owens realized Mr. Smith's intentions and filed a writ of habeas corpus against him. In a panic, Smith attempted to cross the California border, but was stopped by a posse of local citizens, including Charles Owens, forcing him, and his entourage, to return to his ranch.
In January of 1856, Judge Benjamin Hayes declared that Biddy, along with thirteen members of her extended family, were free, despite not being allowed to speak in court (African Americans could not testify in legal proceedings) and the loss of her first lawyer, who quit because of death threats. Tragically, thirteen months after Biddy obtained her freedom, Dred Scott was denied his by the Supreme Court.
Creating Generational Wealth
Though she had no formal schooling, Biddy learned herbal medicine and midwifing during her many years in bondage. Once freed, she became the nurse of a prominent Los Angeles physician, Dr. John S. Griffin. He paid her two dollars a day, while the average daily laborer's pay was about eighty cents.
Likely encouraged by Robert Owens, Biddy realized that land was a way to transfer wealth across multiple generations. After several years, she saved $250, which she used to purchase a lot on Spring Street in today's downtown Los Angeles. During the early 20th century, the area of Ms. Mason's real estate holdings was referred to as the Wall Street of the West. It is now known as Gallery Row, due to the proliferation of art studios and galleries.
In addition to amassing an impressive real estate portfolio, Biddy was also highly philanthropic during her years of freedom. Contemporary accounts indicate that strangers who knocked on her door never left hungry. She also began an orphanage, a school and co-founded the First African Methodist Episcopal (FAME) church in 1872, which is now the oldest, and one of the largest, African American churches in Los Angeles.
Source: Forbes