N132.5m Housing Loan Disbursed To Lagos Workers By Federal Mortgage Bank Of Nigeria under its (HRL) Home Renovation Loan scheme. Out of this, N132.520 million has been given to members of Lagos State Public Servant Housing Cooperative.
FMBN Managing Director, Ahmed Dangiwa who made this known during the presentation of the symbolic cheque for N56.840 to the cooperative, through its Ikeja office in Lagos, said the beneficiaries, numbering 68 are the third batch under the window.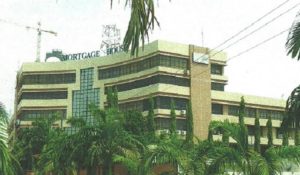 Dangiwa said the bank remained a leading player in the housing and construction finance sector in Nigeria economy and is determined to provide affordable Mortgages to Nigerian workers among its' many thrives to complement President Muhammadu Buhari's housing sector reform.
Dangiwa who was represented by the Executive Director, Loans and Mortgage services, Hajiya Rahimatu Aminu-Aliyu, explained that the loan would assist beneficiaries to put their houses in a suitable manner.
He said, "The fund is sourced from 2.5 per cent of the basic income of Nigerian workers earning the minimum wage and who are 18 years and above. The overall objective is to provide cheap source of loanable funds to nurture and sustain the mortgage industry and eventually facilitate affordable home-ownership for the low and medium income group in the country."
Section 14 (2) of the National Housing Fund Act Cap N.45 of 1992 stipulates that a contributor to the Fund can access a loan from the Fund for the purpose of building, purchasing or renovating of existing houses.
In order to achieve this, he disclosed that the FMBN has developed concessionary loan windows to enable Nigerians access mortgages for home ownership. He however, said that the realisation of the mandate has been hampered by several challenges in Nigeria, which included lack of access to land.
"Inadequate funding for the housing sector, inaccessibility of mortgage loans due to lack of proper title to landed properties. Others are, low income of prospective borrowers which affects affordability, cumbersome procedures for obtaining Governor's consent to land transactions which is also costly," he said.
He also applauded the commitment and cooperation of members of Lagos State Public Servants Housing Cooperative.
Earlier, the State coordinator, FMBN, Ikeja office, Mrs. Margaret Sowande said the HRL is granted for the purpose of renovating existing structure at cheap rate of 6 per cent for tenure of five years.
According to her, the housing cooperative is receiving the HRL for the third time and that FMBN is ready to do more. She encouraged all Nigerians above 18 years working in public and private sectors to register with FMBN and subscribe to National Housing Fund (NHF).
The President of the cooperative, Mr. Samuel Okedara commended FMBN for assisting members over the years.
Okedara said: "The sum of N132, 520million has been disbursed to 157 members in the three batches as at May, 2019. In 2017, N28, 500million was disbursed to 37 members of the cooperative, N47,430 million was disbursed to 52 beneficiaries in 2018 and N56,840 million was disbursed to 68 beneficiaries in 2019".