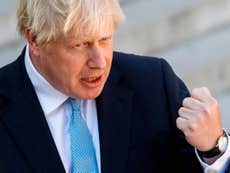 MEPs from across the EU are organizing to trigger a formal investigation into the British government for breaching of the rule of law because of Boris Johnson's "disturbing" move to suspend parliament. The queen approves PM's request to suspend parliament.
EU parliamentarians are circulating an emergency question to the European Commission calling for action under Article 7 of the EU's founding treaty, which has been used to censure countries such as Poland and Hungary when their governments have been deemed to be undermining democracy or fundamental rights.
The bid, launched on Wednesday evening, already has the backing of dozens of MEPs from member states including France, the Netherlands, Romania, Spain and Denmark – and drawn from all of the parliament's mainstream political groups. MEPs have until next Monday to put their name to the proposal, when it will be sent to the commission, and organizers say new signatories are being added every few minutes.
The emergency call states that the UK government's suspension of the Commons, described by its own speaker as "an offence against the democratic process" and a "constitutional outrage" – "will have the effect of preventing the parliament from exercising its legislative function, providing checks and balances to the executive and in particular from taking parliamentary action in relation to the Brexit process".
The MEPs ask whether the commission is aware of "any precedent where a member state has suspended its parliament for such a length of time or at such a moment of importance" and asks how the commission assesses "the compliance of the UK as a current EU member with the EU rule of law standards, in particular with the respect for fundamental values referred to in Article 2" of the bloc's treaties.
Sophie in 't Veld, one of the MEPs backing the motion, was among those who led the charge against Viktor Orban's nationalist government in Hungary, which has been accused of violations of fundamental rights. The European parliament voted by a two-thirds majority last year to force the commission to trigger rule of law proceedings against the central European state.
"If in any EU member state the government would suspend parliament at such a crucial moment, it would be considered a 'clear risk of a serious breach' of the values enshrined in the EU treaties, and a sanctions procedure would be initiated," she told The Independent.
"In 1993 the heads of government decided that EU membership 'requires that candidate country has achieved stability of institutions guaranteeing democracy'. It is obvious that the move of Boris Johnson is contrary to that requirement."
Antony Hook, a British Liberal Democrat MEP who is coordinating the bid said: "Suspending the UK's parliament for political convenience is clearly against the fundamental principles of the European Union and the basic principles that any parliamentary democracy should uphold.
The Independent