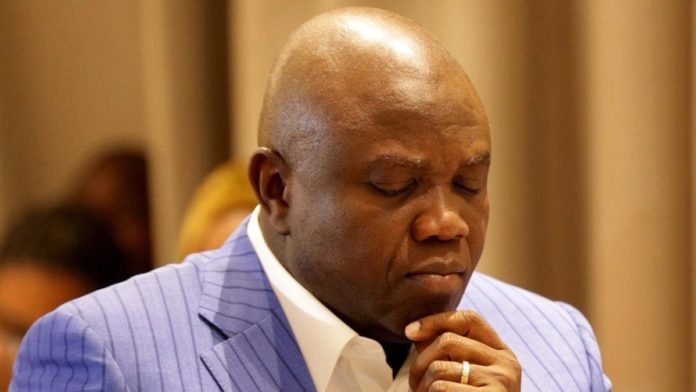 The Speaker of the Lagos State House of Assembly, Mudashiru Obasa, has asked the Clerk of the House, Mr Azeez Sanni, to invite former governor Akinwunmi Ambode over the 820 vehicles purchased during his administration.
Obasa also directed that former government officials involved in the project should be invited.
He said if they refused to hour the invitation, the Assembly would do newspaper adverts, after which it would issue warrants for their arrest.
The Speaker spoke at the plenary on Thursday after two ad hoc committees set up to investigate the purchase of 820 buses during the Ambode administration and appraise the 2019 mid-year budget, delivered their reports.
The chairman of the nine-man committee probing the bus purchase, Fatai Mojeed, stated that out of the 20 officials summoned by the committee, four did not appear.
He identified them as the former Attorney General and Commissioner for Justice, Mr Kazeem Adeniji; ex-Commissioner for Budget, Mr Olusegun Banjo; ex-Commissioner for Finance, Mr Akinyemi Ashade; and former Commissioner for Energy and Mineral Resources, Mr Wale Oluwo.
Some members of the House, while reacting to the reports, suggested that warrants should be issued for the arrest of the former governor and the ex-commissioners.
The member representing Alimosho Constituency 1, Bisi Yusuf, said the House had constitutional powers to issue such warrants.
However, member representing Badagry Constituency 1, Ibrahim Layode, advised that invitation should be extended to the ex-governor and former commissioners through newspaper adverts.
Obasa then said, "The clerk should write them, including the ex-governor, Mr Akinwunmi Ambode, and if they refuse, we will do newspaper publications and after that, we will issue warrants of arrest."
In another development, the House disregarded a petition against member representing Lagos Mainland Constituency II, Lanre Oshun, who was accused of collecting $200,000 bribery to cover up a breach of contract in the environment ministry.
The chairman of the ad hoc committee investigating the allegation, Tunde Braimoh, informed the House that the petitioner was faceless, and the allegation was baseless.