BREAKING: Kogi Decides: 3 killed as thugs snatch ballot boxes in Lokoja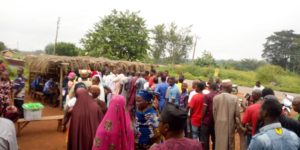 Three persons have been confirmed dead while several others were left injured when suspected political parties thugs invaded Adankolo and Lokongoma primary schools in Lokoja.
It was gathered that the thugs who were dressed in Police uniform shot at two voters in Adankolo and one in Lokongoma when they wanted to snatch the ballot box.
It was also gathered that, several persons were left with degrees of injuries including a Woman.
This forced many voters to scamper for safety following the ugly development in those polling units.
Some victims who sustained injuries are now receiving treatment in an unclosed hospital.
DAILY POST had earlier reported that, the Kogi State governorship election had been marred with violence, intimidations, ballot box snatching and vote buying.
Kogi Decides: Election marred by ballot box snatching, vote buying, beating of journalists, observers, others
The ongoing governorship elections across the 21 Local Government of Kogi State including that of Kogi West Senatorial election has been marred with ballot box snatching, vote buying, beating of journalists and observers by suspected political thugs.
DAILY POST gathered that, there was disruption of the election process at Lokoja Club Close to A Division as some fully armed thugs dressed in Police uniform invaded the polling unit to cart away the ballot box to an unknown place.
Similar incident played out in Crowder Memorial College, LGEA Secretariat Open Space, NEPA, LGEA Primary School Ganaja, Kabawa Area open Space, Adankolo, Open Space Miami Market all in Lokoja as journalistsd and observers who were on ground to cover the election all scampered for safety when the armed men arrived the polling units without resistance by security agencies on ground.
Some journalist observers within this period, suffered the beaten of their lives especially those caught making attempt to cover their nefarious activities using Camera, and Smart phone.
DAILY POST also gathered that the election across the 21 LGA recorded massive vote buying as voters were induced with money ranging from N500, N1,000, N3,000 and N5,000 respectively.
In other areas in Kogi West, aside Lokoja Local Government Area, there was heavy shooting at Ayetoro ward 1 unit 004 where Dino Melaye voted this morning
Less than an hour after he left the voting unit, some hoodlums in two Hilux vans and a Honda Civic stormed the place, shooting into the air and targeted the ballot box.
The ballot box was eventually taken away while some boys in the community chased the vehicles with no success.
In the East, there were shootings and snatching of ballot boxes in some polling units in Dekina Local Government Area.
Some of the areas affected are CMM Primary School, Eti Aya ward 1 Anyigba, and Yale.
Sources said voting were going on well when thugs shot sporadically and hijacked the ballot boxes and left with them.
It was learnt that voters scampered for safety.
Similar incident was also recorded in other LGA's such as Ofu, Ankpa, Olamaboro LGA where it was gathered that phones of journalists and observers were seized by a particular party agent to prevent them from recording the election process.
Meanwhile, Gift Omoniwa, Executive Director, Search for Common Ground, who is an observer escape death by the whiskers.
The Executive Director was on election observation in Ganaja polling unit when hoodlums held her hostage, and attacked her vehicle.
It took the intervention of good Samaritans and security agencies to rescue her from the hands of her attackers.
According to report available to DAILY POST, Gift Omoniwa, was attacked when she drove a Siena bus alongside his team to the polling units without following due process.
BREAKING: Kogi Decides: INEC official kidnapped at polling unit in Lokoja
A yet-to-be identified official of the Independent National Electoral Commission (INEC) has been kidnapped in SUBEB polling unit in Lokoja, the Kogi State capital.
The abduction happened after gunmen shot sporadically into the air while voting was going on, according to the Nation.
Voters scampered for safety before the gunmen went away with the official.
Meanwhile, voting has ended at Bishop Crowther LGEA Primary School Lokoja.
Sorting of votes and counting of ballots will commence by 2pm.
Kogi Decides: Police arrest five thugs allegedly working for Bello's aide, Faleke – Dino Melaye claims
Dino Melaye, candidates of the Peoples Democratic Party, PDP, in the Kogi West Senatorial District election, on Saturday claimed that the Police have arrested five thugs allegedly of Governor Yahaya Bello's aide, Sunday Faleke.
According to Melaye, the thugs have made confessional statements to the Police that Faleke sent them to disrupt election in his polling unit earlier today.
In a tweet on his official Twitter page on Saturday afternoon, Melaye wrote: "5 of the thugs who came to disrupt election in my unit have been arrested and have made confessional statements to the fact that Sunday Faleke aide of Yahaya Bello sent them.
"One of the cars used is also in police custody. Taofik isah was arrested and wrote a caution statement."
DAILY POST had reported earlier a case of ballot box snatching in Melaye's polling unit.
Kogi Decides: Soldiers allowing APC agents to rig, chased people away – Natasha Akpoti alleges
The Social Democratic Party, SDP, governorship candidate in Kogi State, Natasha Akpoti, has accused soldiers of electoral malpractice.
Akpoti alleged that soldiers chased electorates away at the Kuroko 2 polling unit in Adavi Local Government Area of the state while allowing agents of the All Progressives Congress, APC, to rig freely.
She raised the alarm in a tweet, on Saturday.
Akpoti tweeted: "Happening now!!! Soldiers just arrived Kuroko 2, Adavi LGA chasing people away while allowing APC agents to rig freely."
Kogi Decides: Bello arrested, beaten in polling unit – SDP candidate, Natasha Akpoti
The Social Democratic Party, SDP, governorship candidate in Kogi State, Natasha Akpoti, has decried maltreatment against the party's agent in Kogi Central.
Akpoti alleged that SDP's agent, Bello Muhammad Sadiq was arrested, beaten and chased away from a polling unit at Kuroko 2, Kogi Central.
She made the disclosure in a tweet on her official Twitter handle, on Saturday.
Akpoti tweeted: "SDP agents arrested & chased away from polling units in Kogi Central. Bello Muhammad Sadiq was last seen beaten up at Kuroko 2. His whereabout's unknown. Nigeria Police Force.
"Nigeria Police attention to Obeiba. Gun shots as I'm about heading to polling unit to cast my vote. One injured."
Kogi Decides: Yahaya Bello 'God-sent' – Edward Onoja
Edward Onoja, Deputy Governorship candidate of the All Progressives Congress (APC) in Kogi State has said that Yahaya Bello is 'God-sent.'
Onoja said this on Saturday after voting at unit 13, ward 3, Omonyoku-Odidoko, Ogugu-Olamaboro Local Government Area of Kogi.
The Deputy Governorship candidate said voters were eager to return Bello to office.
According to him, Kogi residents will return Bello as their Governor because they want him to consolidate on his achievements.
"You can see the enthusiasm of the voters who want to usher in a government that will continue to consolidate on its gains in service delivery.
"God brought a divine leader who in spite of coming from another senatorial district saw the need to meet the infrastructural gap in the Eastern district that has always produced the governor of the state.
"Because of this, our people who are people of gratitude appreciate that gesture and then made up their mind to repay good for good.
"I think today at the end of the day, we will all be happy," Onoja said.
Kogi Guber: Thugs allegedly attack journalists in Ayaingba
Thugs suspected to belong to one of the political parties contesting in the Governorship and National Assembly elections in Kogi, have allegedly attacked Mr Sam Egwu of the Leadership newspaper and Mr Sunday Omachi of Radio Kogi.
The News Agency of Nigeria (NAN) reports that the incident happened at Ayaingba.
Both journalists were on election duty when they were attacked by the hoodlums at Unity Roundabout, Ayaingba.
Meanwhile, the Commissioner of police in the state, Mr Akeem Busari, said reinforcements had been sent to Ayaingba to bring the situation under control.
Busari, however, is yet to confirm arrests over the incident.
Kogi Decides: Tension in Gbeleko as Speaker allegedly chases PDP agents
The Peoples Democratic Party, PDP, has raised the alarm over harassment of its agents as the governorship election kicks off.
PDP alleged that Speaker of Kogi State House of Assembly, Matthew Kolawole allegedly chased away agents of the Peoples Democratic Party, PDP as they engaged in multiple voting.
The party called on security agents and INEC to arrest the situation immediately.
The opposition party disclosed this in a tweet on its official Twitter handle.
The tweet read: "There is tension in Gbeleko in Egbeda as the Speaker of Kogi State House of Assembly chased away PDP agents and engaged in multiple voting and ballot stuffing with APC thugs.
"INEC and Police should arrest the situation."
Meanwhile, the All Progressives Congress, APC had earlier raised the alarm over the hijacking of electoral materials in Bayelsa State as the governorship election kicks off.
Deputy National Publicity Secretary of APC, Yekini Nabena alleged that thugs of the Peoples Democratic Party, PDP, hijacked electoral materials meant for Sagbama area of the state. 
Kogi/Bayelsa Decide: INEC displays emergency lines as election begins
The Independent National Electoral Commission, INEC has displayed help lines for voters to contact in case of any emergency in Bayelsa and Kogi States respectively.
INEC displayed the information on its official Twitter page.
The post reads: "In case of EMERGENCY, please call INEC on:
"Hotlines: 0700-2255-4632, 09050858629, 09050858675, 09050858649
08180958715, 08180958717, 08180958709
09025038466, 07086945927, 08120183063
07062896047, 08105119010, 08146697603."
Voting stops at Ayewa Polling Unit 001 over bad card reader
Voting has been obstructed at the Ayewa 001 Polling Unit following a Card Reader problem.
The Independent National Electoral Commission, INEC, had yesterday declared that under no circumstances will voting take place without the card reader.
INEC workers and voters are waiting patiently for a new directive from the electoral body.
Kogi Decides: Thugs allegedly hijack ballot box at Dino Melaye's polling unit
A case of ballot box snatching has been reported in Kogi State.
Dino, Melaye, the candidates of the Peoples Democratic Party, PDP, in the Kogi West Senatorial District on Saturday raised the alarm over alleged hijack of ballot box by suspected thugs in his polling unit.
The lawmaker accused one Sunday Faleke of leading the thug to hijack the election materials shortly after he left the polling unit.
He tweeted, "Shortly after I left my polling unit, one Sunday Faleke led thugs who shot sporadically and carted away the ballot box."
Governor Yahaya Bello has cast his vote at his Upogoro-Odenku Ward in Okene Local Government at about 8:50 am.
Bello was accompanied by his wife, Amina , who also voted at the same polling unit.
There nine polling units in the area with registration Code 11.
The voting process stated earlier at a slow pace in parts of Lokoja due to the late arrival of the Independent National Electoral Commission (INEC) officials and election materials.
The Governorship candidate of the Peoples Democratic Party, PDP, Engr. Musa Wada in Kogi State has cast his vote.
Wada was seen casting his vote at his polling unit on Saturday.
Speaking after voting, Wada applauded the INEC and security officials who faulted the attempt by some thugs allegedly sponsored by the All Progressives Congress (APC) to disrupt the election.
He expressed confidence that he will emerge winner if the peace and orderly conduct of the polls is allowed to continue without any form of disruption.
Wada said: "The atmosphere is peaceful but some APC thugs tried to sabotage the process.
"I am happy the voting process has started and I believe I will emerge winner of this election
"If it continues this way I'll say we would have a peaceful election but it's too early to decide. It can all change because of those miscreants but I've warned the people and security agents to be vigilant."
Accreditation at Ward A Polling Station, Growther/ Sabongari, Lokoja, was on at 8.35 a.m. when a correspondent of the News Agency of Nigeria (NAN) visited the polling station.
Voters were seen checking their names on the register pasted on the walls of Growther Memorial College, Lokoja, while others lined up, orderly, to be accredited.
The exercise was peaceful and orderly.
Men and officers of the Nigeria Police, Federal Road Safety Commission(FRSC), Nigeria Security and Civil Defence Corps, the Customs Service, among other security outfits kept vigil to ensure maintenance of law and order.
Electorates in Kogi State will today, Saturday, November 16, 2019, go to the polling units across the state, to choose the next governor who will pilot the affairs of the Confluence State for another four years.
The battle of who emerges governor of the state is clearly between the incumbent Governor, Yahaya Bello of the All Progressives Congress, APC, and the Peoples Democratic Party, PDP's Engr. Musa Wada.
There have also been records of violence with continued clashes between the two major political parties, PDP and APC heading to the Saturday's polls.
Follow this thread for updates of results and incidents from different polling units in the state.
Source: Daily Post