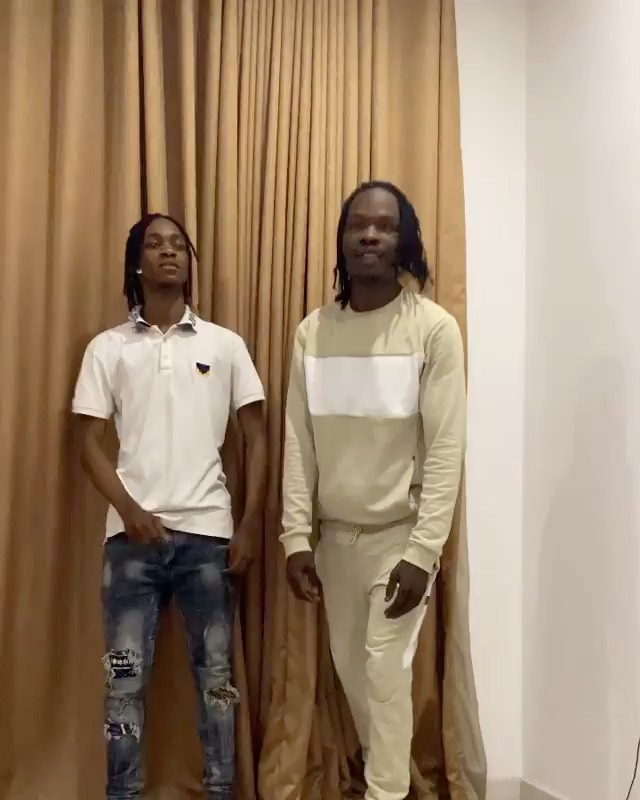 Naira Marley has released his LOL EP and the second track has got fans by the nerves with its new dance step called Tesumole Dance.
This is coming after soapy which was released after his stint in prison for alleged fraud.
Since he debuted the dance on Instagram yesterday, fans have been trying it out and the results are hilarious.
See a few Concourse News culled from Twitter below:
@officialnairam1 come and seeeeeeeeee #TesumoleDance pic.twitter.com/7FMqP8Fqua

— Johnson Olaitan (@oj_fab1) December 18, 2019
Very easy #TesumoleDance https://t.co/YoNoAoACTN

— nairamarley (@officialnairam1) December 18, 2019
@officialnairam1 come and see #TesumoleDance ooo .. I do am sotay my trouser tear.
I hope we made you proud Mr president! pic.twitter.com/BhPMCyxcBS

— Sugar Daddy Of LAGOS ? (@butanol_) December 18, 2019
He got the dance quick #TesumoleDance pic.twitter.com/3coctP4FFa

— nairamarley (@officialnairam1) December 17, 2019
Lmaooooo this how me and the guys gon look trynah learn #Tesumoledance ?? pic.twitter.com/ONbn7MVyQj

— Whiteboyy (@Whiteboyy_prod) December 17, 2019
Naira wan turn me to imbecile with this #TesumoleDance. ? pic.twitter.com/DAudGNO4V9

— Omoniyi Israel (@_omoissy) December 18, 2019
#TesumoleDance easy https://t.co/rUWRrMJ1hM

— nairamarley (@officialnairam1) December 18, 2019
Mehn! This one na real workout ??@officialnairam1 hope I pass my assignment ???#TesumoleDance pic.twitter.com/hjSOFrW5Qi

— DIRGEE ?|| Omo IYA KEMI ✨ (@Dirgee_on) December 18, 2019
#TesumoleDance #NairaMarley I try sha pic.twitter.com/5ose8e02f4

— Johnson Olaitan (@oj_fab1) December 18, 2019
As well as some reactions to the dance: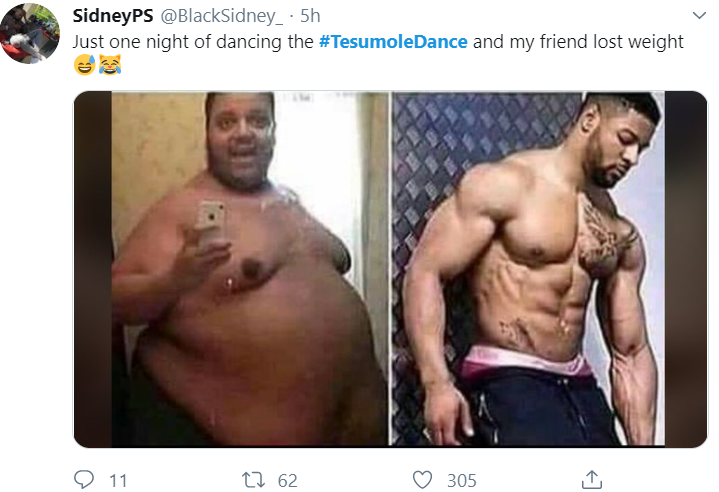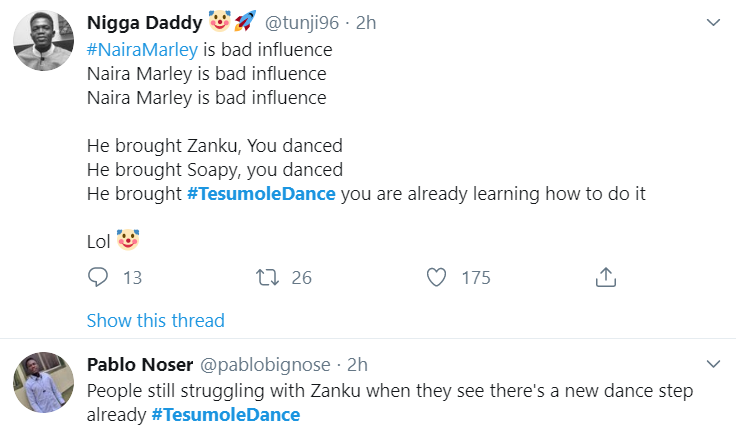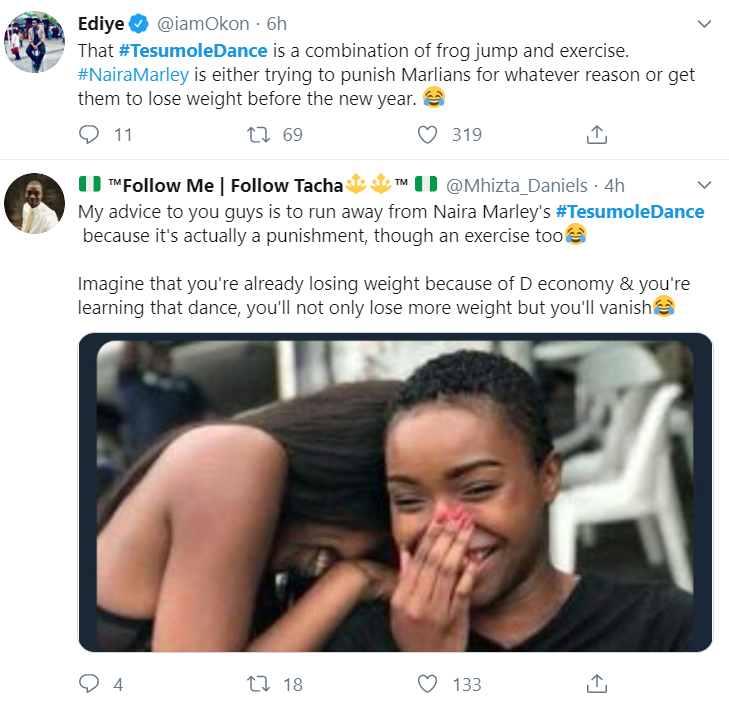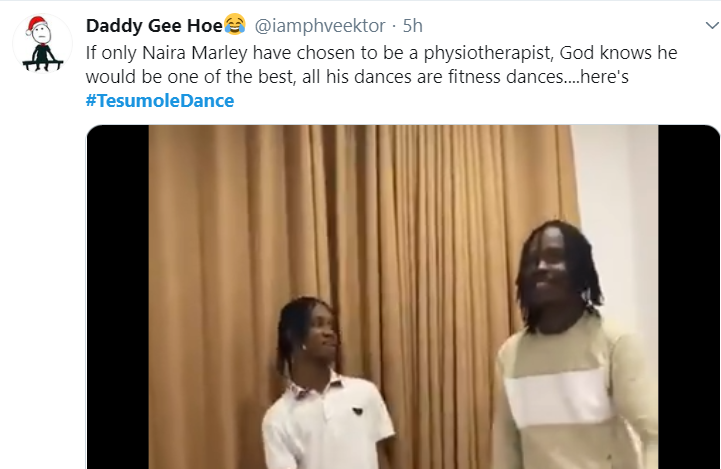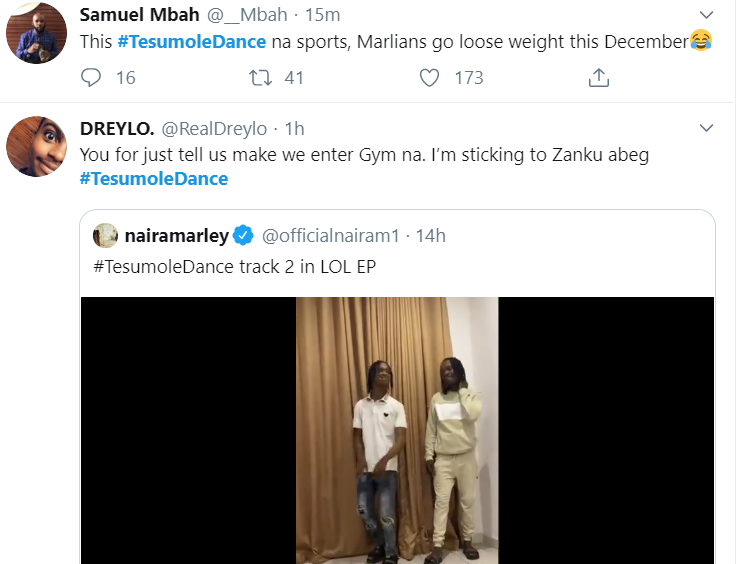 People still struggling with Zanku when they see there's a new dance step already #TesumoleDancepic.twitter.com/jE51zkD5sm

— Pablo Noser (@pablobignose) December 18, 2019