Every room in your home deserves special attention, particularly if you enjoy spending time in that space, but it seems that the living room is one of those areas that deserve a whole new level of attention. After all, this is where you hang out with your family, enjoy your free time, entertain your guests, and take your afternoon naps. That's why your living room needs lots of different things you can't live without, so if you too want to furnish and decorate your living room in accordance with a certain style, here are some of the most essential items you should get.
Check out this handy list of things every living room should have. Are your living room decorations up to the task?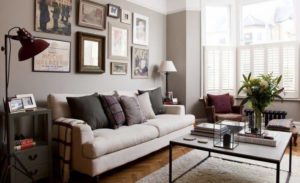 Proper seating arrangements
This is the most important thing in every living room, no matter how big it is, how many people there are in your family, and what you generally use this space for. Without some comfortable chairs, sofas, lounges, bean bags, and other seating arrangements, your living room isn't a living room at all, but an area that has no real purpose in your home. Luckily, there are lots of different models of furniture to choose from, and you can easily find a few ideas that will work for you.
When picking furniture, there are a couple of things you need to take care of – comfort, visual appearance, practicality, color, materials, and, of course, the price. Finding the right living room furniture may not be the easiest thing in the world, but it's still something even a layperson can do if they pay attention to all of the aforementioned things and aren't afraid to think outside the box for a while. That's what you need to do too, so find bold and appealing solutions that will work for you and your family in the years to come as well.
The right focal point
This is another element of a successful living room design, especially if you put your mind to it and find a unique solution. Most people underestimate the importance and value of a proper focal point, but the truth is that this is among the most vital features of any properly decorated living room. Ultimately, this is something all your guests are going to notice, and it will get them talking.
Again, there are lots of different focal points you can take into consideration when decorating your living room, so be sure to check them all out when searching for one of your own. Fireplaces, small sculptures, paintings, childhood memorabilia, sports souvenirs, and even your kids' artwork are just some of the most popular ideas out there, and you surely won't have a problem finding one for yourself.
Lots of natural light and fresh air
No matter how much time you actually spend there, your living room needs lots of natural sunlight and fresh air. These things will make you feel good, help you wake up in the morning, boost your mood, take your confidence to a new level, and motivate you to do something good with your time. Also, natural sunlight will make your living room appear nicer, more welcoming, and inviting, especially if it's not the most spacious living room in the world – lots of sunshine will make it look bigger than it really is, and that's something all homeowners want.
One of the ways to let the sunshine and fresh air in is keeping your windows open all day long, but this isn't an option all people have – those who are stuck with tiny windows, for instance. That's why they have to look for other ideas, including those amazing timber sliding doors that will open up their living room and connect it to their outdoor space more easily than they could've imagined. This is a great way to blend your patio or deck together with your interior space, maximizing the usable area of your home and making sure every corner is always properly illuminated and full of fresh air.
Even more freshness
If you're not the biggest fan of keeping your windows and doors open, you can always add some freshness to your living room with those practical air fresheners. These will make your living room smell nicer than ever but aren't too aggressive or unpleasant. On the contrary, they are subtle, effective, and able to make your entire home friendlier, which is particularly important when you're receiving guests and throwing parties.
Your air freshener can be placed in literally any corner of the living room, as long as it doesn't ruin the aesthetic appeal of the space and make it too cluttered. If you want to choose the right one, consider getting one of the best air purifiers that will clean the air in your home. Fortunately, they come in various shapes and sizes, and you can surely find a model that's going to suit your interior design style and even enhance it. Details like these can make a major difference in your living room, but your entire home as well.
Flowers, herbs, plants
You don't have to be the biggest fan of flowers in the world, but you can't deny the aesthetic appeal they have on your living room. No matter what sort of flowers you prefer, these will surely make your interior space more intriguing and welcoming, not to mention more colorful – and if you manage to color-coordinate your flowers and your furniture, you'll end up with a picture-perfect living room nobody else in your neighborhood will be able to match.
In case you don't want to go with flowers, you can always pick a few plants that are easy to maintain but still quite beautiful. Just ask your local florist to help you with choosing the best plants based on your preferences. There are lots of ideas you can look into, depending on how big your living room and how much free space you have, and you can opt for anything from tiny succulents to massive philodendrons, utilizing every inch of space. In the end, you can even go for a small herb garden and grow your own sage, thyme, rosemary, basil, and mint – not only do these look wonderful, but you can also use them in your cooking on a daily basis, adding more flavor to your meals and saving a ton of money in the long run.
Wall décor
This is another element of every respectable living room design and something that will define your interior space and serve lots of purposes. First, it's all about surrounding yourself with items that mean something to you and have a special place in your heart – from your childhood memories to photos you and your family took while traveling, your wall décor will always remind you who you really are. In addition to that, it will also help you define your space and make it visually appealing, and that's quite important when you're entertaining guests and throwing parties. Your visitors will instantly learn so much about you, and that's a great way to bond with them on a deeper level.
When it comes to picking what you're going to put on your walls, this process could take quite a while. There are so many ideas to choose from, and you need to be careful when selecting them. Not all décor is the same, and not every idea is going to work well in your living room, so take your time, don't rush this decision, and find the best décor you can find. In the end, it's all about keeping your living room fresh and cool, so you can always update your wall décor and change it from time to time. Luckily, these things are easier to arrange and handle than you can imagine, so you won't waste too much time hanging a few pictures or picking a mirror that will work for you.
Interesting rugs
Aside from being the necessary part of interiors, rugs can be a great way of adding a piece of style into your living room. If you add a rug into your home, you can tie together different types of styles and make them all work together. In addition to that, you can use rugs to divide space if you have an open concept interior, or to create depth in small living rooms. For those who'd like to add an interesting twist into their interior, there are a few ways you can achieve that. You can start by layering rugs that will certainly add depth into your living room. Use different types of rug sizes and layer them so they create a new style but be careful not to mix too many different colors and patterns.
Apart from that, you can use a few rugs that will create different parts of your living room – one for the focal point, one for the coffee table and one if you have a reading nook. This will keep the design interesting, but also help you to create different segments that will allow you to play with modern styles. If you'd like to implement new trends, rugs are a great way to achieve that without making too many changes and making some bold decisions. Just plan everything ahead before buying different types of rugs and make sure that will all work well together.
Furniture for comfort
An ottoman is a piece of furniture that can be seen in many living room trends in the past few years and there are few reasons for that. Firstly, you can use this trendy piece of furniture for sprucing up your interior and make it a bit more modern and stylish. Depending on the type of ottoman you pick, you can add different styles and play with different patterns and materials. That will allow you to change the look of your living room by adding only one small piece of furniture. In addition to that, this piece plays a major part in adding a cozy element and making sure you'll be able to add comfort to your interior. Your family members will be happy to have a chance to relax after a long day.
The best part about having an ottoman in your living room is that they can be used as a substitute for coffee tables or as additional seating arrangement. Just place a tray on top of the ottoman and you'll have plenty of space to put drinks and food close to your guests. You can find ottomans made out from leather, different types of soft materials or even some interesting combinations.
Your own private reading nook
People who love reading also love having all their books nearby and displaying them proudly in their living room, which is why they might consider adding some bookcases or bookshelves to this space. Their size is going to depend on the number of books you own and the size of your living room, and these bookcases can be as big or small as you want. If reading is your one true passion, think about those wall-to-wall and floor-to-ceiling bookshelves that will solve all your problems – you can even design and build this on your own rather easily, and not worry about storing your books ever again.
In addition to your bookcase, you can design your own custom reading nook in one of the corners of your living room. This doesn't have to be too big or expensive, as only a simple armchair and a reading lamp will suffice. Of course, don't forget a small coffee table where you can keep your coffee or your tea, as well as a few scented candles that will help you relax and concentrate on your reading.
If you want your living room to look amazing, keep in mind that decorating, equipping, and furnishing it is a responsible and challenging task, so try to approach it carefully and patiently. Envision what you're trying to achieve first, and then work towards accomplishing this goal, but don't be afraid to make bold choices and opt for ideas that will push your boundaries. The end result will be the best living room you'll want to spend time with your family.