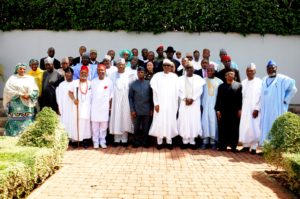 – President Buhari has reportedly chosen to select his new ministers himself – The president instead chose a tough stance in selecting new ministers – A governor confirmed that the president has not approached them nor the party for names. President Muhammadu Buhari has reportedly kept the selection of his choices for new ministers for his second term in office to himself. According to The Nation, some members of the inner power circle popularly known as 'Cabal' went to London to meet with the president but were denied access based on strict orders from him. READ ALSO: Bandits running away from Zamfara to Kaduna, Kano to escape from Army – Buratai It was reported that unlike his first term in office, the president has not asked governors-elect or chieftains of the All Progressives Congress for names as he has adopted a tough approach this time. A top source said: "It seems the President has realised that there are some unproductive members in his cabinet which he ought to offload. "He is keeping the choice of new ministers to himself alone. "His London itinerary was not only kept to himself until the last minutes, he did not allow close associates, strategists and members of his kitchen cabinet to have access to him in London. "Those who went to London came back empty handed. "Only an outgoing minister was allowed access to the President. And the minister was still in London as at yesterday.
"We do not know what informed this sudden change of attitude, but it seems the President is really determined to live up to his promise to leave sustainable legacies in his second term by looking for the right people to serve in his cabinet." A top government source also said the president has not approached his inner circle for names. "He did not request for nominations from the APC governors not to talk of receiving any list from them. "Some governors attempted to gauge his mood but he was noncommittal. He only kept quiet and allowed the governors to do the talking. "Both the party and the governors have also respected themselves by not putting pressure on him." A governor said: "The truth is that we have not been asked by the President to make recommendations on ministerial nominees. "We have tried to be careful too because he does not choose our commissioners for us. "I can say that we are really in the dark like other Nigerians.
"Ironically, some of the outgoing ministers run to governors to influence their retention by the President. "We cannot say whether or not the President will consult us." Meanwhile, the Peoples Democratic Party (PDP) on Thursday, May 2, called on President Buhari to end his 'private visit' abroad and immediately return home to tackle the deteriorated security situation in the country.
(Legit.ng)