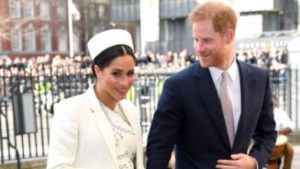 The Duchess of Sussex has given birth to a baby boy, the Duke has confirmed.
Speaking from Windsor, the Duke said: "I'm very excited to announce that Meghan and myself had a baby boy this morning,
a very healthy baby boy."
Asked what it was like to be present for the birth, he laughed and said: "I haven't been at many births. This is definitely my first birth. It was amazing, absolutely incredible, and, as I said, I'm so incredibly proud of my wife.
"As every father and parent will ever say, you know, your baby is absolutely amazing, but this little thing is absolutely to-die-for, so I'm just over the moon."
The baby was born at 5.36am. Crowds gathered outside Windsor Castle during the afternoon to wish the couple well.
Buckingham Palace had earlier confirmed on Monday afternoon that the Duchess was in labour.
"The Duchess went into labour in the early hours of this morning," a spokesman said. "The Duke of Sussex was by Her Royal Highnesses' side."
The Duke and Duchess of Sussex announced the pregnancy in October, five months after their fairytale wedding at Windsor Castle, ahead of an Autumn tour to Australia, New Zealand, Fiji and Tonga, where they were immediately showered with baby gifts.
The pregnancy has marked somewhat of a break with previous royal tradition, with Meghan flying to New York to host a baby shower at one of Manhattan's most lavish hotels, while fans donated thousands of pounds for the Duchess's favourite charities in a generously modern show of support.
Here is everything we know about the Royal baby so far.
What will the royal baby be called?
There is much suspense as to what the Duke and Duchess of Sussex will call their baby.
The youngster has been born into the British Royal family, where tradition is an intrinsic part of the Windsors's lives. If they go classic, possibilities include Alice, Mary, Elizabeth or Victoria for a girl, and Philip, Frederick, Charles, Arthur, Edward or James for a boy.
Of course, the pair are also forward-thinking royals and the Duchess has her own American upbringing to draw on.
Canadian-born Autumn Phillips, and husband Peter Phillips, opted for a non-traditional name for their daughter Savannah – the Queen's first great-grandchild – in 2010.
In the US, the most popular name for a baby girl is Emma and Liam for a baby boy. In the UK, the most popular name for a girl born in 2017 was Olivia and, for a boy, Oliver. In short, it's anyone's guess.
The Telegraph.