Fire broke out in the Ijegun area of Lagos State on Thursday after suspected hoodlums vandalised pipelines belonging to the Nigeria National Petroleum Corporation.
Although the details of the incident are still sketchy, our correspondent gathered that some of the hoodlums were caught up in the explosion and were feared dead.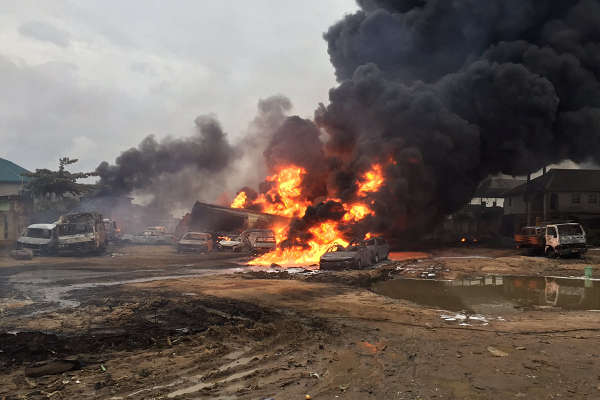 An eyewitness, Babajide Lawal, said the noise of the explosion woke the residents, adding that casualties have been recorded.
Lawal said, "There is fire incident at Ijegun Last Bus Stop, in fact, no one can move near the place because the whole area is burning. What woke us up was the sound of the explosion and when we came out to observe what happened, we saw the fire burning everywhere."
Firefighters from the National Emergency Management Agency and the Lagos State Fire Service were said to have responded to the incident.
The spokesperson for NEMA, South West zone, Ibrahim Farinloye, in a release said the agency had alerted the NNPC management to the development.
"NEMA has also called on the safety unit of the corporation to immediately shut down further supplies through pipeline in order to suffocate the fire.
"It is noted that vandals are responsible for the incident and some of them are affected in the inferno.
"Security agencies have cordoned off the area to restrict access of undesirable elements. People should remain calm," he added.
An official of the Lagos State Fire Service, Amodu Shakiru, said firefighters were still battling the fire, adding that he could not make any comment yet.