A veteran Nollywood actor, Baba Suwe, whose original name is Babatunde Omidina, has finally returned to Nigeria, many weeks after he had to be flown out for proper medical treatment in the United States of America.
At the time, the comic artist's movement was aided with the use of a wheelchair as he could barely walk on his own.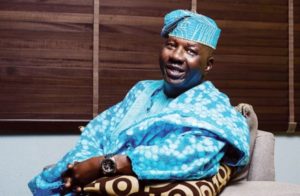 At a point, there were rumors that he had given up the ghost at the Rhodes Island hospital where he was taken to. But his colleagues quickly denounced the rumor with pictures to prove that he was indeed recuperating.
Baba Suwe, in a show of appreciation, swiftly visited one of his prominent benefactors – a Prophetess, known as Iya Adura.
He was accompanied by his son, Shola, and his younger brother, Adeboyega.
The cleric reportedly gave Baba Suwe the sum of N10, 000, 000, after his colleagues publicized his illness and the need to raise funds for his treatment overseas.