British-born actor and former fashion model Adewale Akinnuoye-Agbaje's Farming has snagged the Michael Powell Award for Best British Feature Film at the Edinburgh International Film Festival. Best known for his roles in Oz, The Bourne Identity and Suicide Squad, Akinnuoye-Agbaje makes his directorial debut with the feature.
The same jury awarded star Damson Idris the Best Performance in a British Feature Film accolade.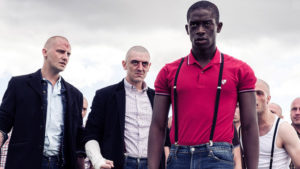 "I am absolutely thrilled to have received this prestigious award, named after one of my cinematic heroes, for my first film," Akinnuoye-Agbaje said. "I am equally delighted that Damson Idris won for Best Performance."
Based on Akinnuoye-Agbaje's own childhood, Farming tells the story of Enitan (Idris), a London-born Nigerian boy "farmed out" by his parents to a white working-class home in 1980s Essex in hopes of giving him a brighter future. As he straddles a fence between cultures, Enitan falls into a destructive pattern of behavior and becomes a member of a white skinhead gang. Kate Beckinsale, John Dagleish and Gugu Mbatha-Raw also star in the drama.
"The unanimous decision of the Michael Powell Jury goes to an important, powerful and disturbing film from Adewale Akinnuoye-Agbaje," said jury members Antonia Campbell-Hughes, David Hayman and Philip John in a statement. "This story forces us to confront an unfamiliar, uncomfortable reality. 'Farming' keeps you invested in its brutal world. Culturally adrenalising. Visceral. Inspirational."
Farming is set to be released in the UK September 17.
Adewale was born on August 22, 1967, in London, England, to parents who had immigrated to the United Kingdom from Nigeria.He is also known for his roles as Simon Adebisi on Oz, Nykwana Wombosi in The Bourne Identity, Kurse in Thor and many more.