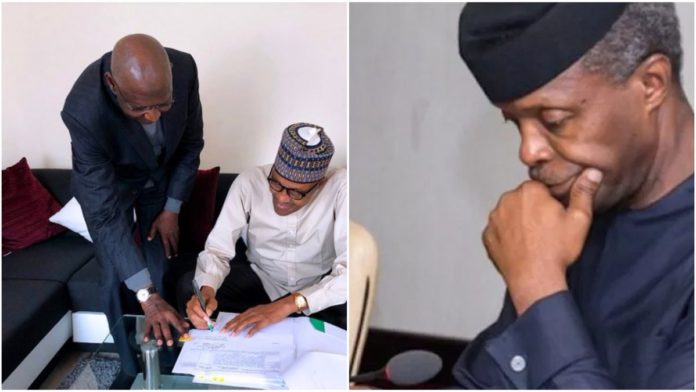 President Muhammadu Buhari government has come under attack following the recent signing of the amended Deep Offshore Act.
Buhari signed the bill on Monday in London, stating that the amended Bill will generate at least $500m additional revenue for the Nigerian government
The Chief of Staff to the President, Malam Abba Kyari, was with him when he signed the Act.
This did not go down well with some Nigerians, as they posed questions about the function of the office of Vice President, Osinbajo.
According to them, Osinbajo should have signed the bill, rather than have Abba Kyari take a trip to London.
Here are some comments gathered by DAILY POST from Twitter:
@Aisha Yesufu "Is Muhammadu Buhari back in Nigeria? Did he cancel his private visit to London? Is he in London with his Chief of Staff while on private visit? Who's paying? Did the CoS fly to meet him in London to get the bill assented? Why the heck do we have a Vice President?
@Gimbakakanda "You can no longer convince me that there's no deliberate ploy to relegate and undermine @ProfOsinbajo ahead of 2023. This function in a foreign country could've been performed by the Vice President, as done in the past, if power had been handed over to him. This is bad optics."
@_Muffasa "Osibanjo that has been relegated since, he himself knows it, but shame won't let him resign from the comedy ."
@Ojogiwaso "Does the SGF has constitutional right to do the function? Does the President has constitutional rights to sign a bill while outside the shore of the country? Does the President has constitutional rights not to transcend power to his Vice while he will not exceed certain days 1."
@Bardenkurmi "President Buhari has for the second time this year failed to empower the VP as acting President, knowing he will be away for 3 weeks. Abba Kyari now run a courier service between Abuja and London instead."
@Iamswaga01 "Osinbande is already getting sidelined in that government."
@Gabrielchima3 "Buhari signing an offshore bill in an offshore location, that's perfect."
@Mansur_ahmed "Abba Kyari took the bill to UK for him to sign, while VP academic is doing nothing here in Nigeria."
@Amasyn99 "Assenting from UK vacation very absurd to my thinking. Buhari should learn how to transmit responsibility. This doesn't make any sense."
@Paulakioyamen "Is he not suppose to be on vacation? His Vice President Osinbajo is just as capable to assent to this bill. This is a picture that surpasseth all wisdom. Na wa oh."
@Karovoni "In the past, Buhari would handover to Osinbajo, but now, his CoS is taking documents to him abroad to sign."
@Tobymaribe1 "It's unfortunate you as a young person posted this story. You should question why our government is run this way. Did Kyari travel with out tax payers money to London for a task that will take the Vice President two seconds to do?
@Iamswaga01 "From the UK? They took the document to him, when he can easily have handed over to Osinbande to do such job for him here. Nigeria is really on autopilot."