The global boxing year will be dominated by the fists, hearts and minds of two British heavyweights at the very centre of a complex business deal.
Never has one fight come to dominate the boxing colony so clearly, and potentially dangerously, as the overdue fight between Anthony Joshua and Tyson Fury, which is now in the lubricated hands of so many different forces, with so many different voices and so many different masters to satisfy. The trickeration, as Don King would say, is deep.
There is no doubt both men want the fight, no proof that either man has shown any fear at the negotiating table; whispers from one camp, rumours of second thoughts, talk of new demands are so often treated as fact in the fight game. And they are not, let's get that right. Fury and Joshua have agreed what they need to agree.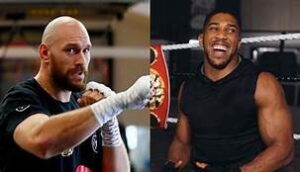 What we do know is that the fight's cabal of fixers have clashed and will continue to clash until the final document is revealed – there is nothing wrong with promoters, lawyers, representatives and television executives arguing, threatening and losing their minds in the vicious days before a deal like this is born. It's probably best that they all hate each other, have no trust or love for each other and in public smile together like aged glamour models at their daughter's 18th birthday party. It's an ugly image of deceit and denial.
The motto for 2021 is simple: Just get the fights done.
Yahoo Sports