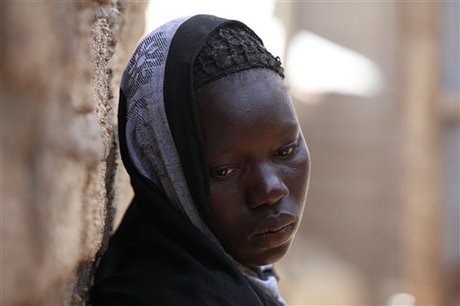 Alot happened this week. For me personally, they became personal for some reasons. I ended up putting myself at the receiving end of every action and inaction that have made the news this week; things aren't right in Nigeria. The average Nigerian is powerless and is fearful; a fear that leads in the most subtle way to a point where most are now being ruled by a survival instinct. Experiences and realities emanating from Nigeria can't but push you to think strictly about yourself alone, even if it's for a second.
This week, South Africans attacked Nigerians again. The Presidential Election Petition Tribunal delivered judgment. A state governor advised a Nigerian to break the law. A state governor's wife was accused of complicity in the death of atleast two Nigerian students during a protest to demand stable power from Benin Electricity Distribution Company. Too many things happened behind the scenes that couldn't have made news also; for example, it's almost certain that policemen accused nicely dressed youths of wrongs without proof.
For the average Nigerian, this might not be the best of times to be a youth. For those of us who are just starting to have clear views of life and seeking to lead a honourable path in our rise to the top, things couldn't be harder. Even Nigerians distrust Nigerians; it's funny how we want the world to trust us. Charity begins at home.
If we had a President who understood international politics, true diplomacy, and when to take advantage of situations, the Xenophobic attack on Nigerians this week wouldn't have happened. If only the Nigerian government would stop seeing every criticism as destructive, but rather, an eye-opener to ills in the country! Acting as The Commander-In-Chief of the Armed Forces of The Federal Republic of Nigeria would have been a good statement by President Muhammadu Buhari. Obasanjo would have. With his shortcomings, Abacha would definitely have. True leaders jealously protect their people and not play unhelpful diplomacy when lives have been lost and sources of livelihood destroyed. Our President needs to wake-up.
The Presidential Election Petition Tribunal delivered judgement in the case brought before it by the Peoples Democratic Party (PDP) and its Presidential candidate in the last Presidential polls, Atiku Abubakar, challenging the election of President Muhammadu Buhari of the All Progressive Congress (APC). While I am of the opinion that President Muhammadu Buhari definitely would have had a WASSCE result (considering he attended higher military schools), I can't but wonder what exactly was running through the minds of those highly respected members of the bench when they clandestinely told us affivadits can now replace original documents; this is a bad precedence.
A state governor asked a Nigerian to break the law. The Nigerian had attempted to discredit an announcement cum news made by the governor. The governor, in response, told him to break a law and he would get the governor's attention. Of course, anyone who breaks the law would get a responsible government's attention, but, should a people-inclined governor who's supposed to be the chief arbitrator for peace encourage someone to commit an offence, that by the governor's own admission, could cause breakdown of law and order? Well, this is Nigeria.
A state governor's wife went to a town hall meeting; by the evening, atleast two students, resident in that town, ended up dead. The truth, no one who isn't there knows; but, the facts didn't put the governor's wife in a good place. Students ended up dead. The governor's wife definitely couldn't have given such instruction to the policeman who fired the first shot, but she definitely could have put a stop to the madness that followed and the recklessness of policemen who went after unarmed students as they should 'supposed herdsmen' terrorising the very people whose taxes pay their salaries. That case shouldn't be 'swept under the carpet'.
I am a Nigerian who believes in doing everything right by The Law; but, I can't say that for the frustrated man on the street. Some believe in fighting injustice with another injustice; that, for me, makes two wrong men. The attack on businesses 'supposedly owned' by South Africans in Nigeria by Nigerians, I believe, should be an eye-opener to the government on the volatile nature of the average man's anger when misplaced and the readiness of some to take advantage of situations just for survival.
Nigeria is sitting on a keg of gunpowder.
Aroso Akintomide Adedamola,
Office of The Citizen,
Federal Republic of Nigeria.
tomidearoso@gmail.com