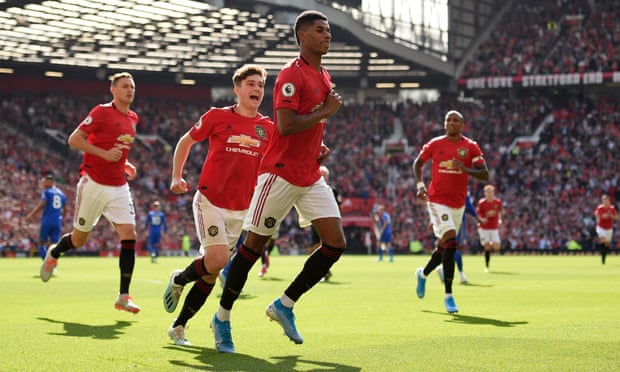 The good news for Manchester United is that they have rediscovered their winning habit. They won this game despite missing a number of key players with injury and, for that alone, Ole Gunnar Solskjær can probably accept the fact their performance never got any higher than six out of ten – lots of huffing and puffing, but none of the old panache.
Leicester certainly had enough of the ball to believe they ought to have extended United's winless sequence to four matches. Ultimately, though, Solskjær and his players can reflect on a decent afternoon's work bearing in mind Leicester have ambitions of their own to break into the Premier League's top four this season.
Marcus Rashford's seventh-minute penalty was the game's decisive moment and, in particular, it must have been a satisfying day for Harry Maguire given the Leicester supporters, for reasons not particularly clear, spent large parts of the afternoon targeting their former player with a very unflattering chant. Maguire played well, winning his personal battle with Jamie Vardy, on an afternoon when United started with great energy before fading around the 20-minute mark and never looking as sharp again.
Solskjær was certainly entitled to feel happy about the commitment of his team – encapsulated by Scott McTominay's hard but fair challenge on Ben Chilwell in the first half – and it was certainly one of Andreas Pereira's better games for the club. Daniel James showed some nice touches and Rashford was always a difficult opponent. Solskjær's team might have reminded us of their flaws at times but, if nothing else, nobody could doubt their determination to make it a happier season than the last one.