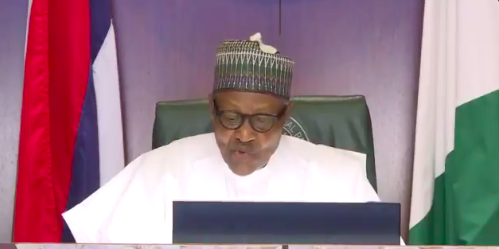 President Muhammadu Buhari has finally broken silence on the #EndSARS protests in Nigeria.
In a one minute video which was shared on his Twitter account, he told Nigerians that the disbanding of SARS was the first step towards a total reformation of the the Police Force.
He also expressed his sorrow at the killing of Jimo Isiaq, an observer of the protest in Ogbomoso, Oyo State, who died after being hit by a stray bullet from the police.
Nigerians have for the better part of ten days been protesting the use of excessive force by the police and undue harassment faced by youths at the hand of security forces.
The disbanding of SARS is only the first step in our commitment to extensive police reforms in order to ensure that the primary duty of the police and other law enforcement agencies remains the protection of lives and livelihood of our people. pic.twitter.com/XjQMSr3jlm

— Muhammadu Buhari (@MBuhari) October 12, 2020