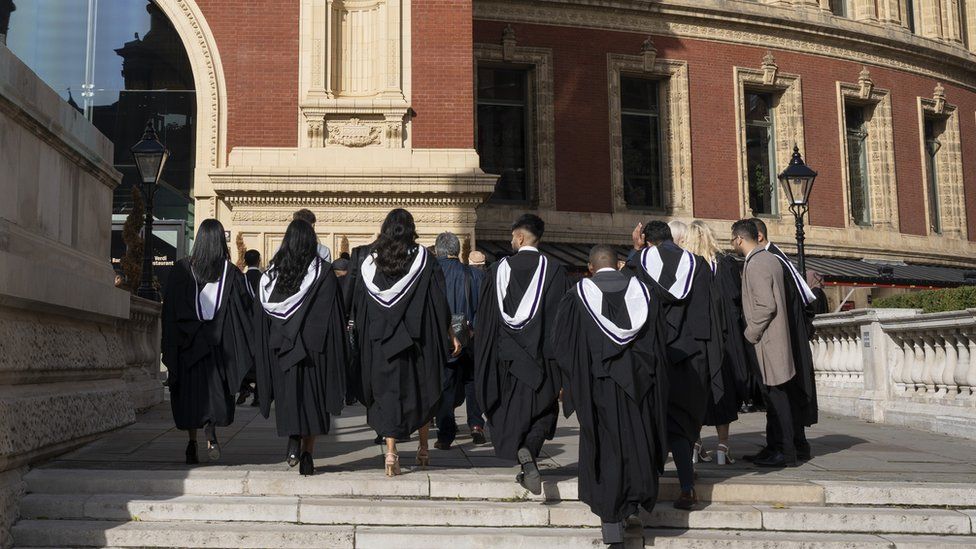 Foreign postgraduate students on non-research courses will no longer be able to bring family members to the UK, under new immigration curbs.
The announcement has been made two days before official statistics are expected to show legal migration has hit a record 700,000 this year.
Last year, 135,788 visas were granted to dependents of foreign students, nearly nine times the 2019 figure.
PM Rishi Sunak told ministers the move would help bring migration down.
He told the cabinet that the change, to begin in January 2024, will make a "significant difference to the numbers," according to No 10.
However, the impact it will have on official migration levels is unclear, since students and family members who come to the UK for less than a year are not counted.
Last week, he said ministers were "considering a range of options" to bring migration down, but refused to say what an acceptable level was.
The Conservatives have previously promised to bring net migration below 100,000 a year, but ditched the target ahead of the 2019 election after repeatedly failing to meet it.
Under the announcement, partners and children of postgraduate students other than those studying on courses designated as research programmes will no longer be allowed to apply to live in the UK during the course.
There were 135,788 visas granted to dependents last year, a rise from 54,486 in 2021, and more than seven times the 19,139 granted in 2020.
These figures have increased since study visa requirements for European Economic Area (EEA) students were introduced after Brexit.
Applications have also risen since rules were changed in 2019 to allow foreign students to stay in the UK for two years after graduating to look for jobs.
Home Secretary Suella Braverman said the rise in dependents being granted visas was "unprecedented," and it was "time for us to tighten up this route to ensure we can cut migration numbers".
In a statement to Parliament, she added that the move "strikes the right balance" between bringing down migration and "protecting the economic benefits that students can bring to the UK".
There was a division within government about going further – and possibly banning the dependents of all postgraduate students, including those on research courses.
But some ministers, including Education Secretary Gillian Keegan, argued they were based in the UK longer and provided greater economic benefits.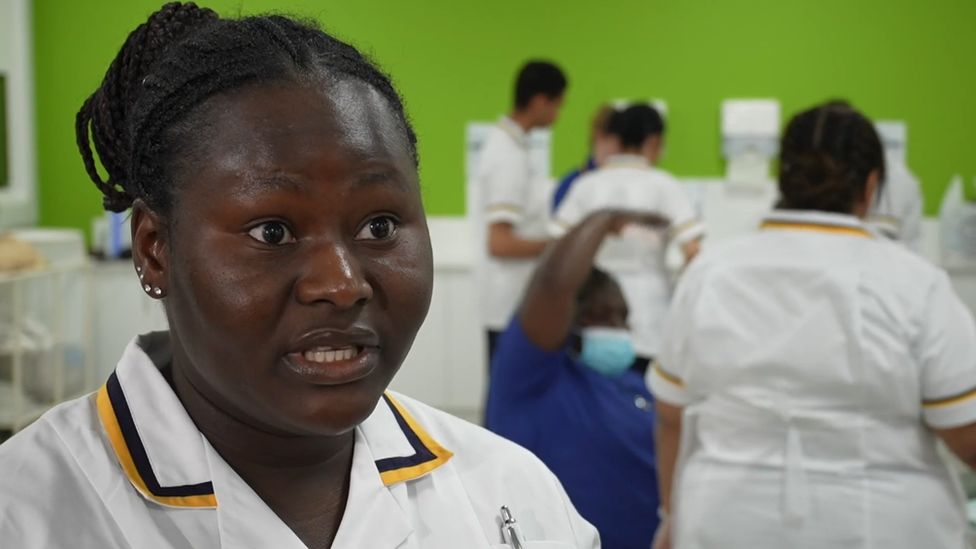 The BBC spoke to two Nigerian students studying at Wolverhampton University.
Rotimi, who is doing a masters degree in mechanical engineering, says he understands why politicians might want to reduce immigration levels.
But he adds that most of those coming to the UK to study also "look beyond studying" – and want their family to be "part of that experience".
He says that without a way for overseas students to bring their family, "most people won't even consider leaving" – or might opt to study elsewhere instead.
As an undergraduate doing a course in mental health nursing, Titilope isn't in the category of students that can bring dependents to the UK.
However, she says that allowing students to have family with them means they can focus on their studies, without having to worry about whether "they have money, or if they are alright".
"At the same time, you know that you have the family there. If you're going through a tough time, it's always better to have the family to talk it through. You don't feel so alone."


Universities UK (UUK), umbrella group for British universities, said it recognized the "substantial" rise in dependent visas had sometimes led to "local challenges" over family accommodation and schooling.
"Given this, some targeted measures to mitigate this rise may be reasonable," said Jamie Arrowsmith, the director of UUK's international arm.
He called on the government to work with universities to monitor the effect of the changes, adding they were "likely to have a disproportionate impact on women and students from certain countries".
The University and College Union (UCU), which represents university staff, called it a "vindictive move" that had raised "deep concern" within the sector.
Those accompanying overseas students to the UK "bring huge value to our society and deserve the right to live alongside their loved ones whilst they study," its general secretary Jo Grady said.
Adam Habib, director of the School of Oriental and African Studies (SOAS) at the University of London, criticized the announcement as "a terrible decision" for three reasons: "First a financial challenge, second it raises issues of coherence in government, and third a human rights question."
Speaking to BBC Radio 4's Today programme, he said: "What this decision runs the risk of doing is making sure these institutions, these universities which are dependent on the fee income of international students, go through a financial crisis.
"We are already seeing financial crises in universities over the last year – there have been strikes over the last year, and vice-chancellors are having to manage that problem – but you will aggravate that problem."
According to HESA, an education data group, there were 679,970 international students in the UK in 2021/2022.
Of these 307,470 were undergraduates, who already can't bring family members to the UK during their course.
There were 372,500 postgraduates, of whom 46,350 are on research courses – the vast majority of them for PhDs, along with a small number of research-based masters degrees.
Students coming to the UK with a visa need to provide documents proving their relationship to dependents, who have to pay £490 for a visa.
Dependents are also required to pay the immigration health surcharge – an annual contribution between £470 and £624 towards NHS services.
Source: BBC News