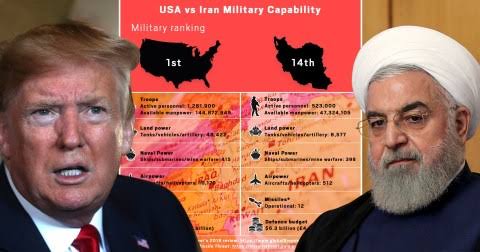 The tension in the Middle East remains and may escalate as Iran has threatened to hit Israel and Dubai with bomb attacks if President Donald Trump of the United States carries out any retaliatory attack.
Recall that Iran had earlier struck the military bases housing the US forces in Iraq with ballistic missiles in what it called revenge for the US airstrike that killed its top military commander, Qassem Soleimani.
After the missile attack, which allegedly killed 80 "American terrorists", according to Iran's local media, the country's Revolutionary Guard warned the US and its allies against further retaliation, Daily Mail reports, citing a statement published by Iran's state-run IRNA news agency.
"We are warning all American allies, who gave their bases to its terrorist army, that any territory that is the starting point of aggressive acts against Iran will be targeted," the statement reads partly.
President Trump, while delivering an official statement reacting to Iran's retaliatory attack on military bases housing the US troops in Iraq, said no Americans or Iraqis were harmed, adding that the bases had minimal damage.
Trump also said Iran "appeared to be standing down" just as he said that the US is ready to embrace peace. He, however, vowed to impose new sanctions on Iran as a result of the retaliatory attack.
The US president said the "powerful sanctions" will remain until Iran changes its behaviour.
"The United States will immediately impose additional punishing economic sanctions on the Iranian regime," President Trump was quoted to have said.