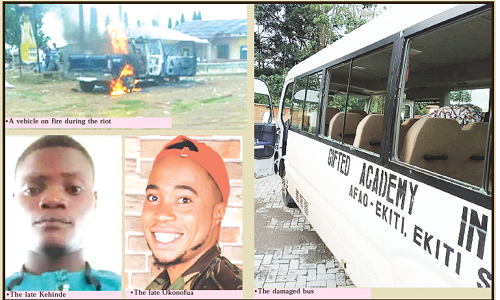 There is mild tension brewing in Ekiti state as students insist on planned protest against the killing of three colleagues by the convoy of the Governor's wife
The Federation of Ekiti State Students Union (FESSU) have said they will go ahead with their planned peaceful protest despite threats by The Police against the protest. The protest was organized as a reaction to the perceived inaction of the Ekiti State government and The Nigeria Police to their demands on the killing of two students of Federal University, Oye-Ekiti during a peaceful demonstration to Benin Electricity Distribution Company to demand power supply.
The Ekiti State Police Command Public Relations Officer, DSP Caleb Ikechukwu, had said in a statement released today, that The Police "have been reliably informed that some group of person(s) who tag themselves ex-graduates who are not currently students of any Higher Institution of Learning in Ekiti State are presently moving into Ekiti State with the sole aim of fermenting and precipitating trouble, and also to incite peace loving Youth and People of Ekiti State."
The Police cautioned "anyone or Group of Person(s) against any Unlawful Assembly with an intent to cause breach of Peace," threatening to "deal decisively with any one or group of person(s) who takes Law into their hands."
FESSU, in a statement signed by the National President, Akomolafe 'Jide-Petkoff and National Secretary, Idowu Ebenezer, called on members from their various chapters; Local Governments, Town/Village, and Schools within and outside the state to ignore the press release as nothing will stop them from coming out to express their disappointments.
The statement read; "We received with utmost dissatisfaction the unguided release of the Nigeria Police Force which intends dissuading our Union from our planned Peaceful Mass Protest against the State Government and the Nigeria Police Force to show our displeasure due to their failure to meet with our demands on the recent extra judicial killings of two students at Oye Ekiti.
"We wish to state emphatically as against their propaganda that our Union; Federation of Ekiti State Students' Union (FESSU) is the umbrella body of all indigenous students of Ekiti State studying in various citadel of higher institute of learning. Our Union from time immemorial has been the uncompromising voice of Ekiti State students.
"The Nigeria Police Force, Ekiti State Command in their unguided release maintained that it is on record that Ekiti State has been the most peaceful in Nigeria while quickly forgetting that the unprofessional act of their officers at Oye Ekiti has heated the atmosphere of our dear State for the past six days aside other security issues that has happened recently in the State.
"We use this medium to caution officers of the Nigeria Police Force not to attempt infringing on our fundamental right of freedom of expression and that of association as we seek to show our displeasure given the inability to meet our demands by Ekiti State Government and Nigeria Police Force, Ekiti State Command.
"We reiterate our ardent commitment to ensuring that our demands for justice, compensation of the families of the deceased, welfare condition for the students in critical health conditions, investigation and prosecution of police officers involved in the barbaric and inhumane attack are being met by the State Government and Nigerian Police Force, Ekiti State Command.
"Conclusively, we passionately charge our teeming members from various Local Governments of Ekiti State, Towns and villages in Ekiti, School chapters of our Union within and outside the state never to be bothered by the unguided said press release but remain absolutely resolute and also await further update on the Peaceful Mass Protest to ensuring our demands are met unconditionally."
Aroso Akintomide Adedamola,
Office of The Citizen,
Federal Republic of Nigeria.
tomidearoso@gmail.com