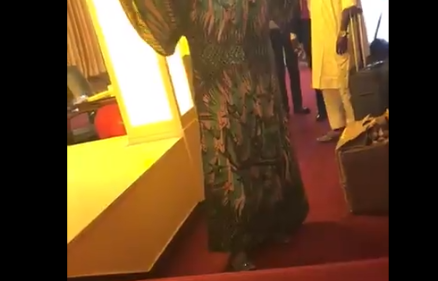 A fresh crisis on Monday erupted at President Muhammadu Buhari's home as his wife, Aisha, battled the family of Mamman Daura, the President's nephew.
Daura's daughter, Fatima, in an interview with the BBC Hausa Service on Monday owned up to a video shot at the Presidential Villa.
In the video, the President's wife, was heard asking questions and making comments about being locked out of a room and demanding that some people should pack their belongings and leave the apartment.
The First Lady and Fatima, in separate interviews with the BBC Hausa Service shed light on the video, which went viral on Friday.
Fatima in the interview said she shot the video with her phone "in case something happens."
On her part, the President's wife confirmed in a 25-second voice clip on the BBC Hausa Service website that she was the person in the video in question.
She accused Fatima of recording the incident while the security detail did nothing because the culprit was Mamman Daura's daughter.
The first lady said, "I was the one in the video, those behind me were the security personnel given to protect me, but Mamman Daura's daughter, Fatima, shot the video in the presence of security officials and everybody. She was laughing at me because my husband said they should vacate the place for my son to occupy.
"I wanted to pass through that door to go into a store but they closed the door. I took an alternative route but the door was still locked."
But in her own account, Fatima said she recorded the incident to provide proof for her parents and security officials in an event "something happens."
She noted that she was surprised by the President's wife's outbursts during the incident.
Water don pass Gari ooooo. Aso Rock is on fire oooo! pic.twitter.com/Fa4XtDqpub

— أنا أؤمن بالله كحامي ومخلصي Jackson Ude (@jacksonpbn) October 11, 2019
Ghen ghen eeeen. Water for Aso Rock don pass Garri oooooo. Part2 pic.twitter.com/VypzyZUoK0

— أنا أؤمن بالله كحامي ومخلصي Jackson Ude (@jacksonpbn) October 11, 2019