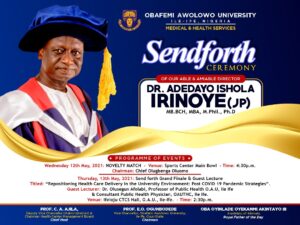 Congratulations to our amiable Olori ebi on his successful retirement from service.
Dr Adedayo Ishola IRINOYE (JP) MB.B.CH, MBA, M.Phil, Ph.D is head of the IRINOYE family. On behalf of the Irinoye family, a big congratulations to our Big Brother, Uncle, Cousin, Father and Grand Father. We wish you a happy retirement and a more joyous and conducive atmosphere in your future endeavours.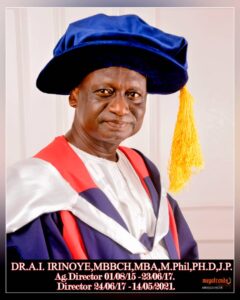 Dr Adedayo Ishola Irinoye has created an enviable precedence for others to follow. We wish you every success for the future and we all look forward to a successful Send Forth Ceremony on Wednesday and Thursday the 12th & 13th May 2021.
Programme of Events:
Wednesday, 12th May 2021 – Novelty March at Sports Centre Main Bowl at 4:30 pm. Chairman of event is Chief Olugbenga Owolabi (Oluomo).
Thursday, 13th May 2021 – Send Forth Grand Finale & Guest Lecture titled "Repositioning Health Care Delivery in the University Environment: Post Covid-19 Pandemic Strategies". Guest Lecturer: Dr Olusegun Afolabi, Professor of Public Health O.A.U. Ile-Ife & Consultant Public Health Physician, OAUTHC, Ile-Ife. Venue: Ifelodu CTCS Hall, O.A.U. Ile-Ife – Time: 2:30 pm
Dr Adedayo Ishola Irinoye was born in 1956 to Late Michael Adetunji Irinoye. He attended Esie/Iludun Grammar School via Oro, Kwara State and later proceeded to Federal School of Arts and Science Mubi in the defunct Gongola State, now Adamawa State where he excelled in all the three subjects at the General Certificate of Education (GCE) Advanced Level. He was thereafter offered admission to study medicine at the University of Calabar where he graduated as a medical doctor in 1983.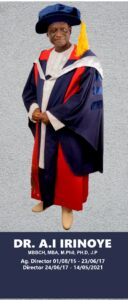 On graduation, he was later posted to Kano State for his National Youth Service Programme (NYSC). He started as a Private Medical Practitioner in Ile-Ife for some years before joining the service at Obafemi Awolowo University Health Centre  in 1996 as a Medical Officer where he rose through the ranks to become the Director of the University Health Centre for Seven Years before retiring.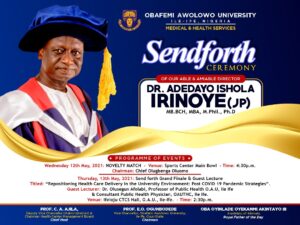 Dr Adedayo Ishola Irinoye is an erudite scholar,. He is a well travelled person, amongst such countries where he visited include the United States of America, United Kingdom, South Africa, Rwanda and many others. He is a (JP), and has written several books to his credit and published articles in reputable local and international journals. He has attended Medical/Professional Seminars in countries including the United States of America and United Kingdom where he delivered lectures in professional capacity. He is a consultant to many institutions and has received several awards. He is happily married with children and grand children.
Source: The Irinoyes