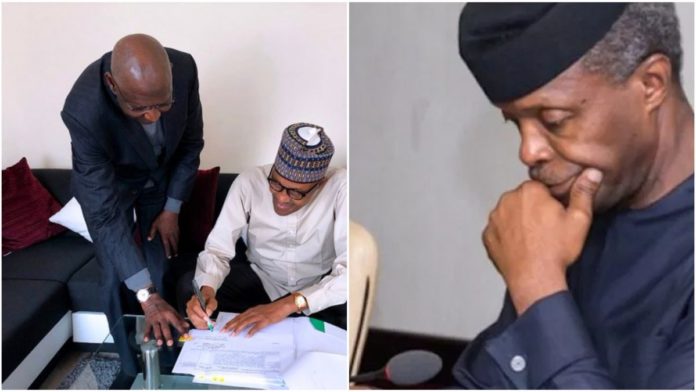 The Chief of Staff to the President, Abba Kyari was in the news on Tuesday. He was reported to have travelled to London to have President Muhammadu Buhari sign an Act recently passed into Law by the National Assembly. That, in my opinion, was avoidable and was definitely not necessary.
The President can do better. He was sold to Nigerians and received by most because he was supposedly honest and honourable. That can be challenged now. And evidently so. Most things the President has been all about have been making the common man, on whose back he rode to become President, think he is as they said he was when he was military Head of State. Some of us haven't been born then, but we have an idea already.
The President was known to always handover the mantle of the State to the Vice-President, Professor Yemi Osinbajo, on this occasion, staying away from the Seat of Power for more than a week, he however chose to hold on to power, preferring national issues run through his Chief of Staff. That's not what The Law says.
Had Buhari handed over the affairs of State to the Vice-President, the unnecessary expenses on the bills of taxpayers would have been avoided. Could there truly really be an issue in the Villa? Is the Vice-President been 'humbled'? What's true about Aso Rock?
The Presidency is sending the wrong message. Nigeria is at a point where every aspect of The Law has to made to function, either we like it or not. To lead is the Presidency. If the Presidency keeps going against the constitution just to settle political scores, it will enbolden the citizens to do worse. Like it or not, a leader represents a country. If we are perceived as corrupt and ill-mannered, President Muhammadu Buhari is also corrupt and ill-mannered. That's what he doesn't know.
If President Muhammadu Buhari is anywhere near the man I imagined him to be before I lawyered for him pre-election in 2015, Abba Kyari has no business in the Aso Rock. He should be having his days in court for corruption charges or be behind bars already.
Nigeria comes first. No one is greater than the country. Not even the President. This Abba Kyari's London trip was avoidable. Why have a Vice-President when resources that could be channelled to better use is spent financing a trip his office was established by The Law to not make happen?
Until we, as a people, decide to consciously monitor and put our leaders in check and on their toes, we may have other countries to leave to our dearly beloved would-be children. Nigeria would be long gone.
Nigerians need to ask the right questions.
God bless Nigeria.
Aroso Akintomide
Twitter: @tomidearoso