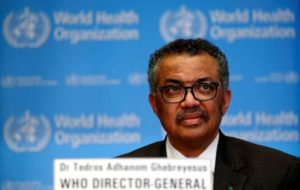 The head of the World Health Organization has warned of worrying upward trends in coronavirus cases in Africa, Central and South America and Eastern Europe.
Tedros Adhanom Ghebreyesus told a video news conference in Geneva that while most of the epidemics in western Europe appeared to be stable or in decline, for many countries the disease was just getting started.
Dr Tedros said some countries which had appeared to do well in the initial stages of the pandemic were now seeing an upsurge in cases.
"Most countries are still in the early stages of their epidemics and some that were affected early in the pandemic are now starting to see a resurgence in cases," he said.
"Make no mistake, we have a long way to go. This virus will be with us for a long time."
BBC News