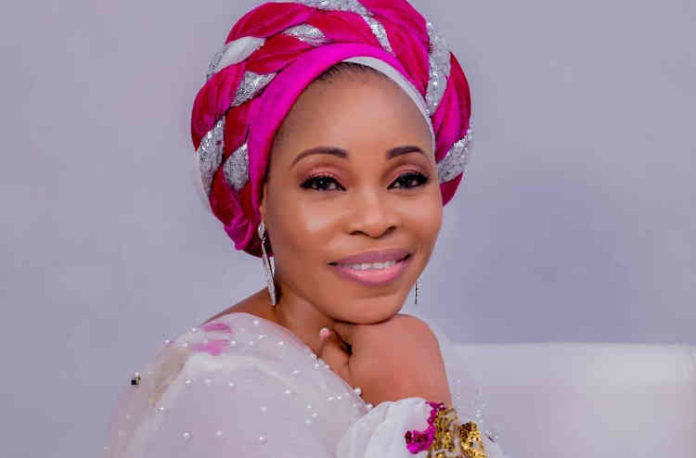 Fast and furious, the song and drums roar like a crash of thunder in rainy season and she dances wildly like fire. Like a devil resisting deliverance, she jumps and gyrates with the skill of a striptease dancer. She dons a white Versace wear. She's a famous gospel music evangelist. She chews widely on a piece of gum as her mouth sings His praise but her feet shuffles excitedly to that worldly dance step, zanku, mixed with a sprinkle of shakushaku, twisting and turning. She's a disgrace to Christendom. She's evil; nail her to the cross, they chorus.
I wasn't a Tope Alabi fan. Not until I listened to her monster hit, 'Mo ri 'yanu', a couple of years ago. That song changed my perception of her as a colourless gospel artist assaulting the ear with monotonous dogma, devoid of talent, artistry and grace. I think 'Mo ri 'yanu' is to Tope Alabi what 'Ketekete' – (The Man, the horse and the son) is to Chief Commander Ebenezer Obey. It's what 'Eri okan' (Conscience) is to King Sunny Ade. While 'Ketekete' cements the legendary of Obey as a foremost philosopher, 'Eri okan' affirms the genius of KSA as an unsurpassable, multi-talented artist of his generation. The brilliance that produced 'Mo ri 'yanu' belongs in the evergreen realm.
Until I listened to 'Mo ri 'yanu', I had been put off by Tope's alleged sex scandal with her late pastor, Prophet Elijah Ajanaku. The suspicion in which I hold self-professed men and women of God and the monologue that dominate her works had also caused me to see her songs as predictable and commonplace. In 'Mo ri 'yanu', Tope acknowledges the humbling birth of Lord Jesus and His predestined supremacy. She also preaches about the Holy Trinity and the ultimate ability of God, the Father, to do all things.
But with the zanku plus shakushaku dance steps she skilfully exhibited in a music video that went viral last week, not a few busybodies feel she should be tossed into a lake of fire.
The hoopla that trailed the video is rooted in Nigerians' monstrous penchant to idolise religious and political leaders and sit them on the same throne with God. But Tope is just a two-legged mortal with a head, two eyes and a beautiful body susceptible to arousal when lovingly caressed by her husband, Soji Alabi. Though a celebrity, Tope is vulnerable to the vicissitudes of life like any other mortal – a reason why when death came knocking on the door of her father, neither her powerful voice nor her depthless compositions could turn death back.
For those who frowned on Tope Alabi's zanku dance, here are a few sore points that they feel fall against the grain: Why should Tope Alabi, a 49-year-old married woman and mother, deftly 'gbe bodi' and dance like an uncircumcised teenager to Christian songs during the burial of her father? Why should a gospel singer, Christian leader and an entertainer dance so raunchily in public?
I won't go to Israel to recall the curse placed on Michal for criticising King David, her husband, who danced in an 'undignified manner' before the Lord when the Ark of the Covenant was taken to Jerusalem during a religious procession. I shall limit my opinion to the realities of our Nigerian sensibilities. I watched the video over and over, and I came to the realisation that folks averse to Tope's controversial dance did so because they couldn't come to terms with the personalities of the hitherto dove-like Tope and the new eagle-like Tope. The sharp contrast between the two Tope Alabis, I think, was a major reason for the condemnation. If Tope had been known in the past to dance with reckless abandon, there would've been no room for the criticism. Having buried my mother at the unripe age of 62, I know there's a sense of gratitude felt by children who have the privilege of burying their parents. I think that the sense of gratitude, joy and fulfilment felt by Tope birthed that dance.
It should be pointed out that Tope wasn't dancing to salacious Naira Marley's 'Tesu mole', she was dancing to a live Christian worship song performed by up-and-coming younger artists, who had come to support a big sister burying her father. To show solidarity with the younger musicians, I don't see anything wrong with Tope doing the youthful zanku or shakushaku dance steps. Tope, who's almost 50, should even be commended for having the stamina to compete with the youth in their own dance. Also, I see a dose of chauvinism in the criticism because I strongly feel that if the artist was a male, no eyebrow would have been raised. I've seen a number of popular male gospel artists do zanku and shakushaku dance steps in their music videos and no one has cast the first stone at them.
For being true to herself by openly showing her unrestrained dancing skills, Alabi shouldn't be condemned. Her dance is in total contrast to the hypocrisy of the Nigerian political leadership typified, in this instance, by the House of Representatives which just ordered from overseas 400 brand-new Toyota SUVs for its members. It's shocking that the House of Representatives could shun indigenous auto assembly plant, Innoson Motors, and ferry boatloads of foreign exchange to Japan to buy 2020 edition of Toyota SUVs when the Federal Government failed to transport Nigerian amateur boxers to Senegal for Olympic Games qualification trials – on account of paucity of funds. The callous Federal Government had shamefully turned down the request by some of the boxers, who had been in camp for several weeks without camping allowance, to sponsor themselves for the qualifying event. The boxers had been raining blows on one another in the hope of earning Olympic tickets in the different weight categories only for the Sunday Dare-led sports ministry to murder their hopes in cold blood. Giving the most absurd of excuses, the sports ministry said boxers would be sponsored to compete for Olympic tickets at the world boxing qualifiers in France. Nigerian leaders are surely walking with their heads upside down. Transport to France will cost much more dollars. Qualifying from France will be like putting the camel through the eye of the needle. Why go to France when you can get qualification tickets in Senegal? Are some people waiting to exploit the country for estacodes?
If the Major General Muhammadu Buhari (retd.) regime calls on Nigerians to fasten their belts tight, officials of government should also be seen as doing so. It's wrong for misdirected customs officials to break into poor folks' family kitchens in search of imported rice, turkey and toothpicks while Buhari, Vice-President Yemi Osinbajo, Senate President Ahmed Lawan, and House of Reps Speaker, Femi Gbajabiamila, their families and cohorts living on taxpayers money, eat foreign food, ride exotic foreign vehicles and treat the masses with indignity.
Even if it's to score a cheap political point, it never occurred to the Gbajabiamila-led House to take up the sponsorship of just three of the boxers to Senegal by buying 399 SUVs instead of 400. These lawmakers have the latest state-of-the-art vehicles costlier than the incoming acquisitions. The Buhari-led executive appears not to have time for any other thing at the moment; it's busy with ensuring 'repentant' Boko Haram members are treated with dignity, honour and love befitting of royalty. This is the change promised.
NB: Congratulations to the World Boxing Council new heavyweight champion, Tyson Fury, the Gypsy King, whose victory I predicted. Fury's victory is down to belief, passion and courage – virtues lacking in the All Progressives Congress-led Federal Government headed by Buhari, a Fulani herdsman.
Source: PUNCH