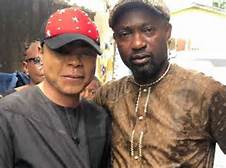 The Chairman of the National Union of Road Transport Workers (NURTW), Isolo-Ejigbo branch B, Alhaji Bashir Femi Olowu, has revealed how the Nigerian cross-dresser, Idris Okuneye, popularly known as Bobrisky, lied to his father, Alhaji Musibau Okuneye, about his changed identity, saying he told his father that his feminine dressing was to act theatre on social media only.
According to him, his father was still in the dark about the real identity of his son as he (Bobrisky) dressed normal as a man to his father's birthday held at his residence in Ejigbo last week.
He said the father was not happy about the identity of his son on social media as against the belief by many people that he was supporting him in the act.
Daily Post