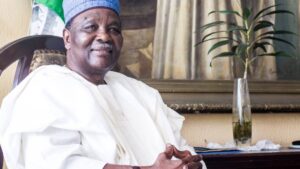 Pointblank News have revealed that former Nigeria Head of State, retired General Yakubu Gowon, bought some choice property in the Greater London area shortly after he was sacked via a coup in 1975. He fled to the United Kingdom shortly after his ouster.
According to a title deed in the possession of Pointblanknews.com, one of the properties is at 32 Broadgates Avenue, Hadley Wood, Barnet, Hertfordshire.
Investigations also reveal that Gowon and his wife, Victoria bought some empty plots on that street where the current listing price is between £950,000 and £1.5 million pounds for a 6-room detached house.
Gowon was removed in bloodless coup led by late General Murtala Mohammed while he was away in Kampala, Uganda to attend the OAU meeting. Gowon subsequently went into exile in the UK, where he later acquired a PhD in political science from Warwick University. His main British residence is on the border of north London and Hertfordshire.
While he held sway as Nigeria's leader between 1966 and 1975, oil profitability was greatest during what was called the "Golden Decade" of the oil boom. Nigeria became the wealthiest country in Africa. Between 1958 and 1974, production rose from just over 5000 to 2.3 million barrels per day and government revenue increased from N200,000 to N3.7 billion. Within two years, state profit increased by almost 50%, to an all time high of N5.3 billion in 1976.
Recently a British member of parliament Tom Tugendhat (Tonbridge and Malling) attacked Gowon.
He said "We need to call out the corruption, we need to use the powers that we have in this country to stop those profiting from the wealth of that great nation and hiding it here.
During the debate on a petition on End SARS, Tugendhat accused him and the country's leaders of corruption. He said he looted half the Nigeria Central Bank at the end of his reign. " Some people will remember when General Gowon left Nigeria with half the Central Bank and moved to London"
Gowon pushed back when he said ""What the MP said is rubbish. I do not know where he got that rubbish from, I served Nigeria diligently and my records are there for all to see. I did not want to speak on this issue because people that know me know that what the MP said is not true" he said
The registered owners of the property on Broadgates Avenue, were listed as Yakubu Gowon and Victoria Hansatu Gowon of 32 Broadgates Avenue, Hadley Wood, Herts with Title number MX357472.
According to The extract from Her Majesty's Land Registry ".' the information on the extract are current on 14 May 2018 at 20 : 33. T OF 32 Title absolute ( 30.11.1976) PROPRIETOR: YAKUBU GOWON and VICTORIA HANSATU GOWON of 32 Broadgates Avenue, Hadley Wood, Herts.
But in a series of tweets, Femi Fani-Kayode described the allegation by the MP who provided no evidence as false
He said , "Whatever you may say or feel about General Yakubu Gowon it is NOT true that he took half of Central Bank with him when he went on exile to the UK and studied at Warwick University after being removed in a coup by General Murtala Mohammed.
"I have my views about Gowon and what I consider to be his role in the mass murder and genocide of 3 million Igbos during the civil war and I have often expressed it but he was NOT a thief and neither did he amass wealth for himself when he was Head of State.
"As a matter of fact he was the darling of the British Government & no Nigerian leader, living or dead, has been as close to successive British Governments as him.
"This very young British MP is trying to revise history and demonise a man who served and protected British interests in Nigeria when he was in power more than any other and this is most dishonourable and unfair.
"The truth is that the greatest looters in the history of humanity were the British themselves and their Empire enslaved, looted and pillaged entire nations and continents.
"If he wants to criticise Nigerian leaders let him do so with facts and not fabricate lies in a scurrilous and essentially racist attempt to confirm the stereotyping of every Nigerian and African leader as being corrupt.
"The truth is that even though they pretend and sweep it under the carpet, there are as many corrupt British leaders, government officials and public servants today as there are Nigerian and this has always been the case.
Pointblank News