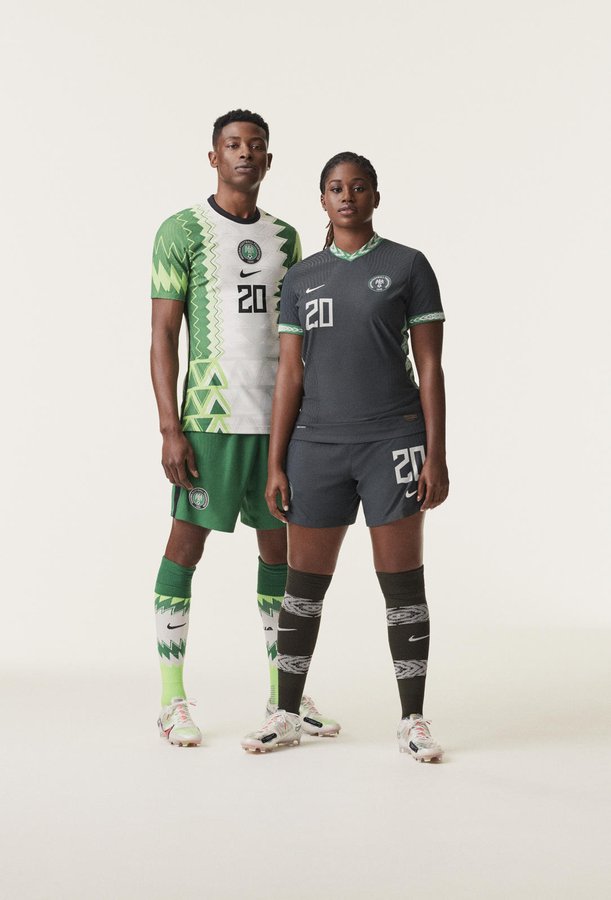 In 2018, the Super Eagles changed the game with a collection for the ages that set a new standard for how Nike approaches federation design.
In 2020, Nigeria picks up right where they left off with a home kit that fuses the traditional aesthetic of an agbada robe with modern football design.
The kit's pattern was hand-drawn and is highly symbolic of Nigerian heritage with nods to nobility and family. Nigeria's crest is placed centrally on the chest with a Swoosh underneath it.
The player names and numbers integrate the eagle feather into the application. "Naija" appears inside the neck of jersey and on the back of the socks in a new typeface.
The away kit is inspired by Onaism, a traditional artistic movement central to Nigerian design and craft represented in the trim details. An eagle feather aesthetic, creatively distorted, continuously repeats in ascending size to create a visual impact.
The collar has a slight V overlap with a thicker overlap in the back. Both the collar and the sleeves feature a slight nick at the mid-point.
The broader Naija collection will feature an extensive array of Super Eagles apparel including a poncho, vest, dress and more.
Source: TheAOIFootball