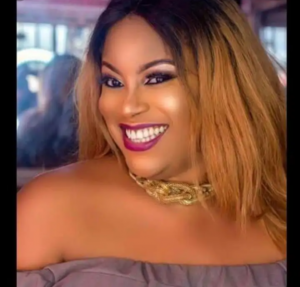 Actress, Peggy Onah, has urged ladies not to allow self-isolation and loneliness make them spread their legs for men, as the coronavirus battle rages on.
Speaking in an interview with Tontrends, she said, "Ladies, stop spreading your legs for every fine boy or man that comes your way because of self-isolation or quarantine. Even if you want to get down with your man, make sure you use protection. Remember that no man wants a liability.
"As for men, don't go about sleeping around with any woman you see. Try to be in control and don't forget to use protection because you won't want to bring a child you're not ready for into the world."
Onah also maintained that she hadn't been lonely despite being home alone. She said, "I am not lonely. My drinks, television and games keep me company. I can't be lonely when I have all the things I need at home.
"However, it's true that every woman needs a man's touch. I love being touched and pampered. I am in a relationship and my man understands that we need to be away from each other till the coronavirus pandemic blows over. I feel bad but life comes first. As soon as this whole crisis is over, me and my man will take a 'baecation' so we can make it up for the moments we were not together. I am really looking forward to that."
The actress also urged couples who are away from one another to resist any form of temptation. She added, "Men, stay faithful to your wives if you're married. And if single, date one person at a time. This isolation period is just for a while. Both men and women should learn to manage it because life has no duplicate. Being on quarantine isn't a reason to leave one's wife or husband."
Talk of Naija.