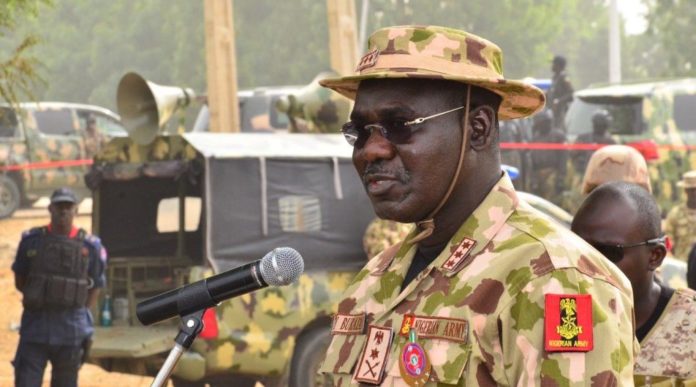 The Yoruba socio-cultural organisation, Afenifere, has condemned the statement by the Chief of Army Staff, Maj. Gen, Tukur Buratai that Boko Haram terrorist will remain in Nigeria for a long time.
Afenifere's spokesperson, Yinka Odumakin said the comment was an indication that Buratai has surrendered to Boko Haram.
Recall that the Chief of Army Staff had revealed that the Boko Haram insurgents can be found everywhere in Nigeria including Lagos State.
He had also warned that terrorism would remain in Nigeria for a very long time in Nigeria.
Reacting, Odumakin said the comment was an indication that Boko Haram was in charge and not the security agents.
The Afenifere's National Publicity Secretary also lamented that Buratai's comment came at a time when the leader of Boko Haram, Abubakar Shekau had threatened President Muhammadu Buhari against visiting Borno State.
Buhari had visited Maiduguri to sympathize with people of the state over Boko Haram attack. But shortly after his visit the insurgent struck again.
However, Odumakin while speaking said: "Buratai's comment is a clear surrender to Boko Haram, it's also not surprising that he made the statement when Shekau was issuing a warning to Buhari never to return to Borno state.
"This is an indication that Boko Haram is in charge. Clearly, Buratai's position has become untenable as the Chief of Army Staff."
The Afnifere's spokesperson also suggested that restructuring Nigeria was the only solution to the insecurity issues in the country.
"You can't resolve the insecurity issue we have today without restructuring Nigeria, all we are witnessing in the country today in terms of insecurity is due to the wrong structure that is drawn along ethnic lines then you say you want a stable police in Nigeria, it will fail.
"In a federation both the federal and state government are subordinate, they make laws and they must have their security agencies to enforce the laws made. It's only in Nigeria federation that you have central police," he added.