Raheem Sterling's third goal at the European Championship helped England beat Germany 2-0 and put the team into the quarterfinals.

Germany are going out!      England 2-Germany 0
Photo credited to Laurens Lindhout/Soccrates/Getty Images
75' — Goal! Raheem Sterling makes it 1-0! Well there goes Germany.

67' — Substitutions: Serge Gnabry on for Timo Werner, while Jack Grealish on for Saka.

45' — The second half is underway! Will we see some goals?
Halftime observations and analysis
Mats Hummels is keeping it level for Germany right now. His last-ditch tackle on Harry Kane was almost miraculous.
Germany started the game well but eventually dropped off, allowing the English to take the initiative. Harry Maguire's runs into midfield is keeping the Germans from stamping their authority in the middle.
England got away with two bad challenges that could've seen both of their DM's sent off. Rice's tackle on Goretzka and Phillips' tackle on Kroos should've been punished with more than mere yellows.
Robin Gosens has struggled to get involved yet again.
Werner maybe should have scored the chance he had, but the fact is that Germany have not created enough chances. Bring on Musiala or Gnabry in the second half.
Half time: Both teams are still level.
Kickoff: We're underway! Both Southgate and Low are mirroring each other with a 3-4-3 formation. Whose 3-4-3 will be better?
One hour until kickoff: We have lineups! Goretzka starts and Werner comes in for Gnabry. Let's hope Musiala is an option in the later stages of the match.
It's the last day of the Round of 16, and after yesterday's matches, these games have a lot to live up to. Germany face England at Wembley Stadium in a game that holds a lot of significance to both teams, the home side in particular.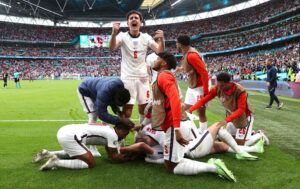 Both the sides show parallels coming into the tournament. England coach Gareth Southgate has been criticized for being too conservative and failing to make use of this generation of English talent, while Joachim Low has often been under fire for assembling an underperforming team, despite having a large number of Bayern Munich and Chelsea players in his squad.
Both teams may deploy in a 3-man backline, and it could end up being a tense battle to attrition to see who comes out on top. Let's hope Germany have what it takes, because the English home crowd will definitely be behind their team when the whistle blows.
Match Info
Location: Wembley Stadium, London, England
Source: MSN Sports